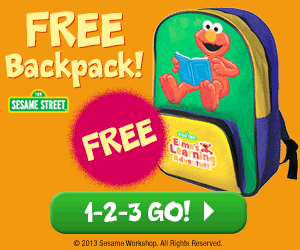 If your child loves Sesame Street, you'll LOVE this deal! Act now and get the incredible Elmo's Learning Adventure Gift Package for only $7.95 PLUS a FREE Preschool-ready Elmo Backpack! Valued at $44.75! Shipping is also FREE!
Elmo's Learning Adventure Gift Package includes:
• Hardcover Storybooks with Sesame Street characters
• Activity Books with learning activities
• Adventure Cards with fun activities
• Sturdy Storage Slipcase for books & Flip-top Storage Box for Adventure Cards
• Storage Box Divider Cards
If you like the books, they will keep coming every month. If not, you are under no obligation to continue receiving and you can cancel at any time.
Order today and get your Elmo Package NOW!