Crock Pot Broccoli Cheese Soup Recipe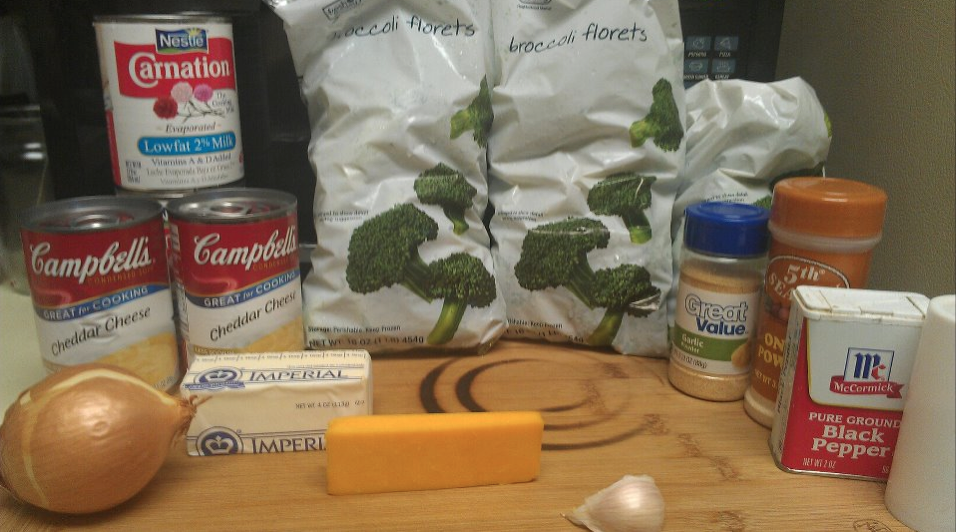 If you like this recipe then PIN IT on Pinterest
Everyday at 5 pm PST/ 8 pm EST Budget Savvy Diva posts a NEW RECIPE 🙂
Make sure to follow Budget Savvy Diva on Facebook 🙂
Find Copy Cat Restaurant Recipes HERE
Find Crock Pot Recipes HERE
Find Gluten Free Recipes HERE
Find more Recipes HERE
Who does not love a simple broccoli soup?
This soup brings back fond memories of  my childhood –  this soup is easy to make and robust in flavor ( oh and it is full of veggie goodness 😉 ).
The secret ingredient is sauteed onions — it really elevates this soup to the next level.
So get ready to learn how to make a simple broccoli soup that beats the ones you will find in a restaurant.
This version is not gluten free due to the Campbell Soup used has wheat flour  I usually make my own cheddar cheese soup
From my kitchen to yours.
What You Need
1 (32 ounce) bag frozen chopped broccoli – I do not use the stem
2 (10 ¾ ounce) cans cheddar cheese soup
2 (12 ounce) cans evaporated milk
1/2 Teaspoon of Garlic Powder
1 Clove of Minced Garlic
Cheddar Cheese
1 Tablespoon of Butter or Margarine
1/2 Teaspoon of Onion Powder
1 teaspoon black pepper
1 Cup of Chopped Onions
What To Do
Heat up a skillet on medium heat and melt butter – Sautee onions for about 10 minutes. Add garlic and cook for one minute.
Place All INGREDIENTS ( except Cheddar Cheese) in the Crock Pot. Cover and cook on low 4-5 hours.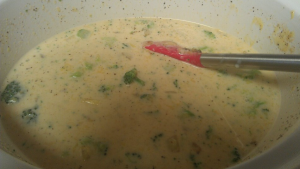 Garnish with Cheddar Cheese Enjoy 🙂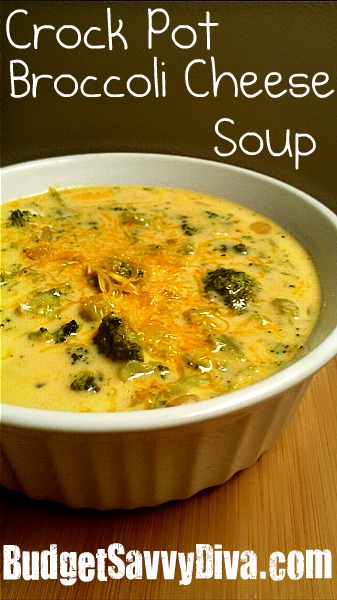 Crock Pot Broccoli Cheese Soup
Simple Broccoli Cheese Soup in the Crock Pot
Ingredients
1 (32 ounce) bag frozen chopped broccoli - I do not use the stem
2 (10 ¾ ounce) cans cheddar cheese soup
2 (12 ounce) cans evaporated milk
½ Teaspoon of Garlic Powder
1 Clove of Minced Garlic
Cheddar Cheese
1 Tablespoon of Butter or Margarine
½ Teaspoon of Onion Powder
1 teaspoon black pepper
1 Cup of Chopped Onions
Instructions
Heat up a skillet on medium heat and melt butter - Sautee onions for about 10 minutes. Add garlic and cook for one minute.
Place All INGREDIENTS ( except Cheddar Cheese) in the Crock Pot. Cover and cook on low 4-5 hours.
Garnish with Cheddar Cheese Enjoy 🙂
This recipe is adapted from Foods.com