How To Choose The Best High Chair For Your Toddler – High Chair Buying Guide 2020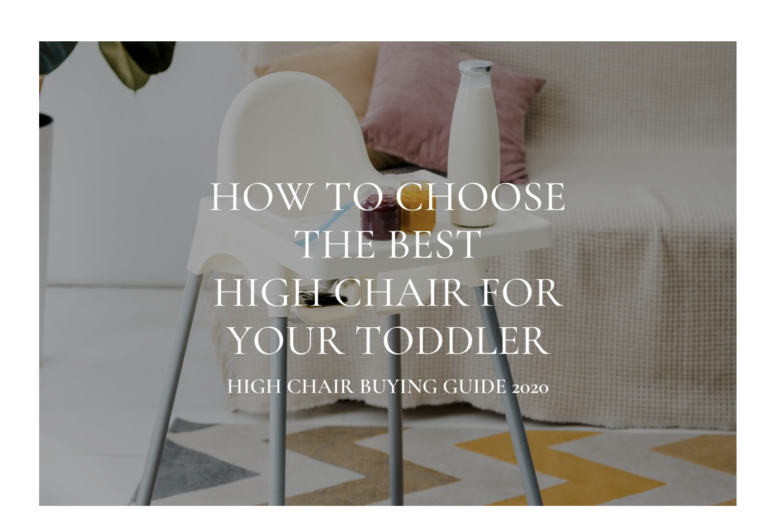 How To Choose The Best High Chair For Your Toddler – High Chair Buying Guide 2020
Feeding time can be challenging for moms, especially when your little one is transitioning from purees and liquid to solid foods.
All mothers want to make this phase as smooth and hassle-free as possible for their kids. 
If you're also going through this and looking for the best baby accessories and gadgets to make your parenting journey easy, you've come to the right place. 
In this high chair buying guide, we're going to talk about one of the most important pieces of furniture that you may want to invest in when your baby learns to sit properly and start consuming solid foods – High Chairs
So without any further ado, let's get started. 
What is a High Chair & How Much Does it Cost?
A high chair, as its name suggests, is a chair that's high and helps encourage independent feeding for your toddler.
These chairs come with a foldable front tray that you can use to serve your baby's favorite food to them. 
High chair for babies and toddlers is a multipurpose tool that not only helps mothers train their little ones for independent eating, but it also provides a safe spot for kids where they can play and feel part of the action whilst you're engaged with other important stuff. 
Make sure you invest in a high chair when your baby is at least 6-months old and can sit up on their own. 
As far as the budget is concerned, it is entirely your personal choice. There are different products available on the market with different features, functionalities, and price tags. 
We suggest you invest in a convertible high chair with a footrest that you can use for a long period of time. 
High Chair – Types
High chairs are available in different types and styles. Some of the most common types include:
Traditional High Chairs
If you have a decent-sized living area or a kitchen, then a traditional high chair can be your safest bid. 
These chairs are comfortable and sturdy, but the only downside is that they occupy a lot of space. 
Also, these chairs do not include plenty of features like other present-day functional chairs. Needless to say, these chairs are affordable and highly durable.
Modern High Chairs (Contemporary High Chairs)
Next on our list are modern high chairs. These chairs are highly functional and stylish. They come equipped with all the high-end features you may want for your little one. 
The only disadvantage is that these chairs are costly, and you need to have a hefty budget to invest in this particular type of chair.
Folding High Chairs
Folding high chairs are another useful option that is light-weight and handy. These chairs boast more or less a similar design as traditional chairs. The only difference is that folding high chairs are more portable and comfy
High Chair with Adjustable Footrest
Make sure you invest in a high chair with adjustable footrests as they tend to provide better support. 
Portable High Chairs/Travel High Chairs
If you're an avid traveler, then you may want to invest in portable travel chairs that fold up fairly small. 
These chairs come with a strap and generally include a harness and a tray. 
Boosters
Booster chair is another affordable and safe chair option for kids who're over 12-months of age. Unlike traditional and modern high chairs that you cannot carry everywhere, you can take a booster chair with you wherever you go. 
High Chair – Benefits
Since high chairs are a costly investment, it is important for you to determine whether you need that in the first place. 
Here it is important to understand that self-feeding is a critical milestone for you and your baby. To make this journey less stressful and fun, it's crucial to invest in a few baby products that can go a long way. 
For instance, you can purchase a cute fork and spoon sets, adorable bowls, and a high chair. In addition, there are numerous benefits of investing in a high chair. 
Makes the Self-Feeding Journey Smooth and Stress-Free
Self-feeding is a great way to help your little one learn essential motor skills. When they learn to independently feed themselves, they also tend to learn the art of grasping and identification.
High chairs for babies and toddlers come with a tray that also contains a cup holder for better food management.
Makes Feeding and Cleaning Easy
High chairs not only help make food management easy, but they're also incredibly easy to clean and maintain. 
If the high chair you bought for your little one contains a cushioned seating, you can wash that separately after every 3-4 days in your washing machine. 
Most contemporary high chairs do not contain a fabric-crafted seat. All you need to do is to wipe them with a wet cloth, and you're good to go. 
Provides Safety and Security
What sets high chairs apart from conventional chairs is that they come with belts and barriers that provide the utmost support and comfort to your little one. 
Some high chairs also include a reclining seat to accommodate the needs of an infant. 
Helps Your Baby Learn the Importance of Family Time
Meals are important. They provide an opportunity for the entire family to sit together, share opinions, and enjoy quality time. 
When you invest in a high chair, your little one also gets a chance to contribute as an active family member. 
Helps You Manage Your Daily Chores Without Disturbance
While the basic purpose of high chairs is to facilitate self-feeding, it offers a plethora of other benefits too. 
Since these chairs come with a harness and a safety belt, you can put your baby inside it while you're managing other house chores. Simply serve your toddler with some of his favorite snacks, and you can handle the rest of the things without any difficulty.
Things to Consider Before Buying the High Chair
Safety Harness
The high chair you purchase for your little one should come with a safety harness feature that can prevent slips and falls. Ideally, the safety harness should be non-removable so that your baby cannot remove that on his own.
Stability and Support
Instead of investing in a vertical leg chair, try to look for options that come with legs spread outwards. Chairs with outward legs are more stable and offer better support than high chairs with straight legs.
Adjustable Footrest 
A high chair with a footrest ensures your child gets maximum support and balance while feeding. Make sure you invest in a product that features an adjustable option, making it easier for you to adjust settings according to your needs.
Easy to Clean
High chairs with lots of fabric can never be a good choice. Why? Because it will take you forever to clean them. Look for options that are easy to clean and maintain. 
Portable and Travel-Friendly
The high chair you choose for your toddler should be portable and travel-friendly. It should also be light-weight and handy. 
Foldable
A foldable high chair is easy to carry and store. Also, you can take them along while traveling. 
Brakes and Castor Wheels
If you're going to be regularly taking the chair out, then you must look for options that come with castors wheels and brakes.
Cost
Today, you can find plenty of high chair options available on the market. Modern high chairs with footrests are priced anywhere between $40 and $400. 
Make sure you identify your needs first before you settle for any specific product. Pay special attention to space, your budget, and the age of your toddler.
You don't necessarily have to invest in a chair that is extremely expensive. Look for options that are cost-effective, feature-rich, and functional to use.
Once you have purchased a high chair for your little one, the next step would be to ensure ultimate safety and security. 
We've dedicated the next section of this high chair buying guide to address the safety issues related to high chairs. So follow along.
Tips for Keeping Your Toddler Safe in a High Chair
One of the best ways to keep your little one safe in a high chair is to invest in a product that comes with a 5-points harness system. 
Another important thing you must pay attention to is the safety belt. The belt should be easy for you (but impossible for) your little one to release. 
Instead of using a lap table, always use the restraint system that comes with a chair. Do not let your child climb or stand in the chair. Do not place high chairs near counters, stoves, and electrical sockets.
Last but not least, it's crucial to be careful in watching toddlers and younger children when they play. 
Final Words
All in all, a high chair is a long-term investment that helps enable your little one to learn the importance of mealtimes. Choosing the right product will make your parenting journey a lot more easier and stress-free.
All the best!