Recall Roundup: Tempura Batter and MORE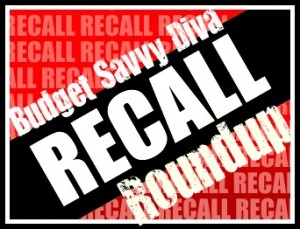 Boy Howdy there were a lot of Recalls this week and Budget Savvy Diva lets you in on all the details ( the only blogger who updates on recalls daily mind you 🙂 ) – I go the extra mile for you ♥
I have a new recall for you :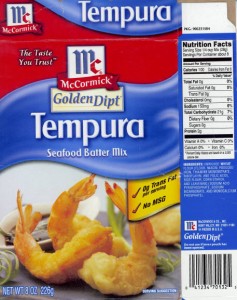 McCormick & Co has announced a voluntary recall of Golden Dipt Tempura Seafood Batter Mix 8 OZ, with UPC Code 4123470132 and "BEST BY" date of OCT 08 12 H. A very limited number of packages of Golden Dipt Tempura Seafood Batter Mix with this date code contain an undeclared milk ingredient. People who have an allergy to milk run the risk of serious or life threatening allergic reactions if they consume this product.
The recalled cartons of Golden Dipt Tempura Seafood Batter Mix were distributed to grocery stores in Florida, Georgia, Kentucky, Massachusetts, Maryland, Maine, Michigan, North Carolina, New Hampshire, New Jersey, New York, Ohio, Pennsylvania, Tennessee, and Wisconsin as well as internationally to the Cayman Islands, beginning on October 21, 2010. The affected product is packaged in 8 OZ cartons, and the date code is found printed in white ink on the bottom of the carton.
All grocery outlets that sell Golden Dipt Tempura Seafood Batter Mix are being notified to remove the affected product (UPC Code 4123470132 and date code BEST BY OCT 08 12 H) from their shelves immediately. Consumers do not need to return the product to the store where it was purchased. Instead, consumers are urged to contact McCormick's Consumer Affairs team at 1-800-632-5847, weekdays from 9:30 AM to 9 PM, or weekends from 11 AM to 7 PM (Eastern Time), for a replacement or full refund, as well as instructions on what to do with the product.
——-
Other Recalls from the week :