*Brag Stockpile Photo Of The Day* – Games, Games, and MORE Games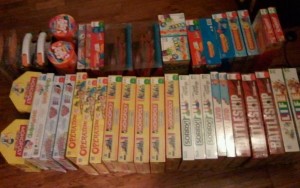 Picture is from Reader Theresa.
This is Theresa biggest Haul EVER!!!
This is what she said:
" I went to walmart and gave them the big lots ad for $5 games and they honored it on all Hasbro games regardless of price. My purchase would have totaled over $2100.00 (games ranged from $15-30 so average was $20 per game) but with 105 games only $5 and then I had 105 coupons ranging from $3-5 dollars, I bought them all for less than $80 tax included. That is a savings of over $2000.00. Biggest haul of my life! (I could only get so many in my picture taken with a phone) but just wanted to give you an idea"
What do you think of this game stockpile?
If you have a stockpile photo please send them to [email protected]