RECALL ALERT: Motrin Infant Drops Berry Flavor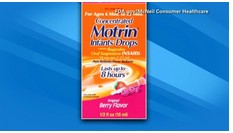 Approximately 200,000 bottles of Concentrated MOTRIN Infants' Drops Original Berry Flavor 1/2 fl oz bottles are being recalled! They found small plastic pieces in some bottles.
If you have purchased any recently be sure to look for the following info to see if your product is included:

Go HERE to find out more info!
Thanks FTM!