More Than a Rocker: Cracker Barrel is Partnering with Operation Homefront Again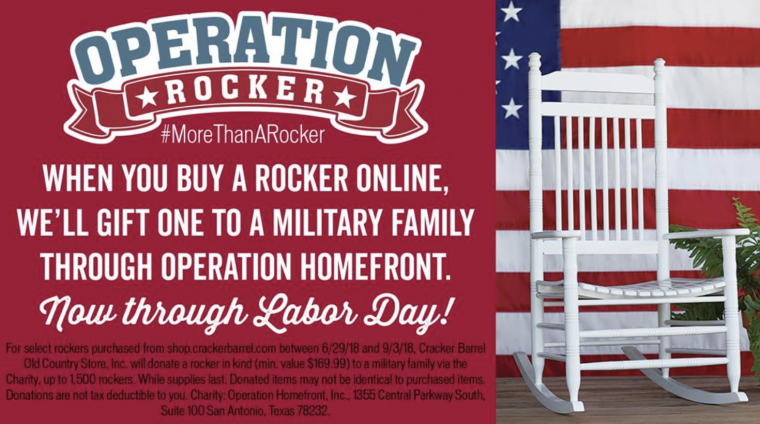 The Cracker Barrel sent me one of their iconic rocking chairs so I could write about it and share  about their wonderful partnership with Operation Homefront. All opinions are my own.
I'm really excited about this because you all know what huge Cracker Barrel fans we all are.  We adore the theming and love the copious portions of tasty comfort food. I'm so glad they reached out to me about this Operation Homefront partnership, because my Dad is a Veteran.  As much as I love their rocking chairs, it is so heartwarming to know that for every rocker purchased Cracker Barrel gives one to a military family.
Operation Homefront
The nonprofit Operation Homefront was started after the events of 9/11.   It was founded as a way to provide emergency assistance to troops, their families and servicemen wounded in action.  There are several programs within the organization implemented to create stable, secure military families that thrive within their communities.
Cracker Barrel is doing their part to support the charity, which upholds the highest standards for stewardship.  Operation Homefront is well regarded by Consumer Reports, Charity Watch and the Better Business Bureau. Last year they donated over 1,000 rockers and this year we hope to make it more.
More Than A Rocker
As a mother, I appreciate what a comfort a good rocker can be.  It's that restful place you go to at the end of the day. The soothing motion lulls you to sleep when you are kept up at night.  It's a bond forming piece of furniture that connects moms, dads and grandparents with the newest members of their families.
One of the things that always springs to mind when I think of the Cracker Barrel is all those rockers on their porch.  They are so gorgeous and pleasant to sit in. Knowing what a comfort they are and how much they can mean to a family, I think it is the perfect gift to contribute to a worthy cause that is making a real difference in the lives of families, who have fought to make a difference for ours.