Dave's Hot Chicken Lunch Date With All 7 Heat Levels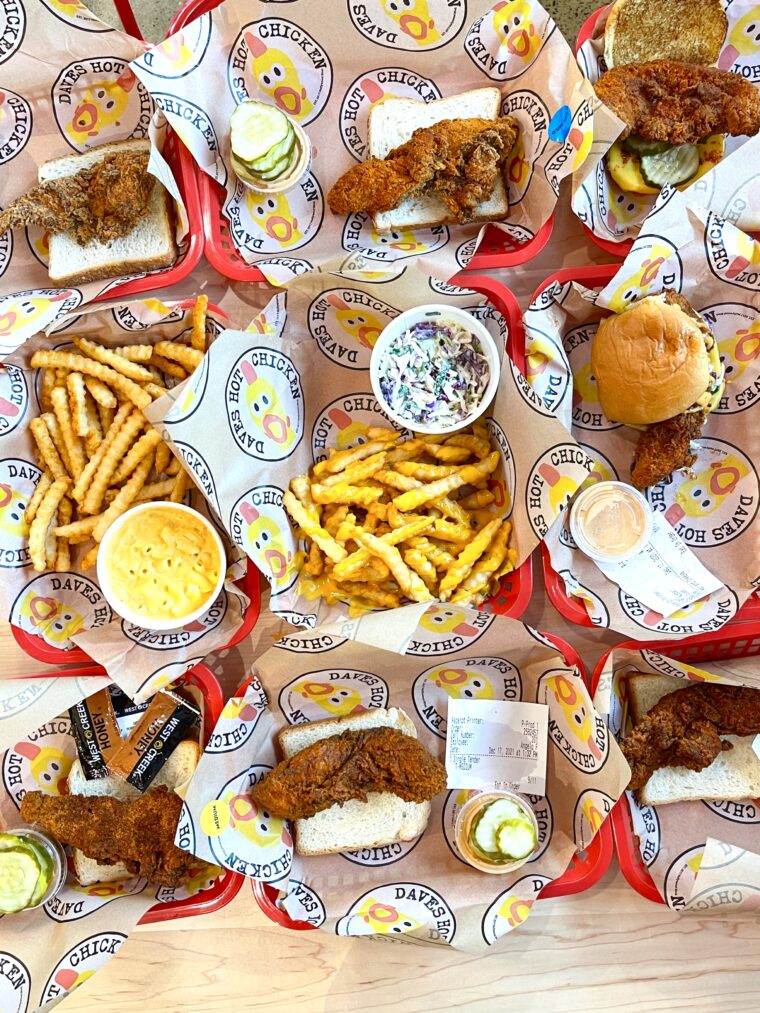 Eric and I got to take a small break from the kids two Fridays before Christmas because they opened a new Dave's Hot Chicken in Beaverton and we were invited to a pre-opening event! It was super fun because we had done all of our Christmas shopping, so we were able to have a pretty chill time just the two of us. Neither of us had ever been to Dave's Hot Chicken before, but we live close to one and have always been curious about it, so I jumped at the chance to try it out for free.
A Free Lunch
The quasi-media event was mostly for friends and family, so we stood out a little bit photographing our food. We may have also taken up a full table with all the baskets of chicken we got. The bill would have been just over $50 which is actually pretty good considering everything we ordered. Because of the nature of Dave's hot chicken, we wanted to make sure to get a good sense of their spice scale and make our best recommendations.
Eric and I got a good mix of sliders and tenders and we liked both. We liked the way the tenders came on a piece of bread. We also liked the soda fountain, particularly the Gold Peak Iced tea dispenser with assorted flavors to choose from. Eric got a large milkshake, which we shared. It's a definite must once you get into the spicier territory, which Eric braved alone.
The Seven Spice Levels of Dave's Hot Chicken
The way Dave's Hot Chicken works is that the spice comes from Carolina Reaper. Every spice level has a different amount of the insanely hot pepper in it. We were pleased to discover that the scale they provide is pretty accurate to our personal definition of terms like mild, medium, and hot. We did notice a leap from 2-3 and little difference between 3 and 4. I thought three was right at my level, but I was pretty comfortable with 4, although that's where I stopped. Eric's slider was hot. That's level 5.
I'm pretty happy with the fact that out of 7 levels, hot doesn't make an appearance until level 5. But it is hot. Eric noticed a similarly close heat factor between 5 and 6 as we did with 3 and 4. It was hot enough for him, but we had to do all 7. By the way, you get to sign a waiver when you order the one they call Reaper. It's silly, but at the same time, it is no joke. You need a whole milkshake (no straw) just for that one.
Not Just Spicy Chicken
Besides the spice level, we loved the chicken and have already been wanting to go back. It's tender and juicy and a good value, whether you like spicy or not at all. The sides include slaw, mac and cheese, and fries and you can also get honey to drizzle on your chicken, which makes it even more awesome!