Budget Tips: 10 Tips to Fight HIGH Food Prices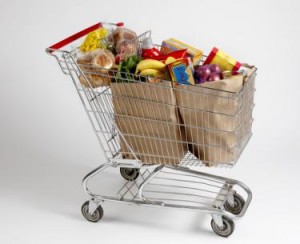 Getting a good deal at the grocery store is getting harder and harder – isn't it ??
Here are some tips I have found to help fight those pesky prices.
$$$$$$
1. Shop Warehouse Stores – Wait till the end of the day – this is when managers discount perishable items ♥
2. Use Coupons – C'mon you know I was going to add that one in there – right?? Remember coupons are not only found in the Sunday Newspaper but also HERE. Also check Budget Savvy Diva daily – I give the inside scoop on all the best coupon deals.
3. Hit Dollar Stores– I LOVE my .99 cent store – you really can get some great deals there – check out  –
Best and Worst Dollar Store Buys – MUST READ
4. Use Grocery Store Rewards Cards – At my local Ralphs – not only do I save using the card – I rack up points and mailed a check – I receive about 24.00 yearly – pair that with coupons – this Budget Savvy Diva can make a lot of dinners.
5. Buy Generic –
Buying anything else – you are buying at a premium. If I do not have a coupon for something I always go generic. Next time you are at the store compare the ingredients of the name brand with the generic – not much of a difference. In some cases the product is made in the same factory!
6.  Make A List  –
Always – Always – Always make a list – even if it a few things. A list really helps me focus on the task at hand and helps me from ruining my budget with non-essential purchases – though ice cream always seems essential to me ♥
7. Use Discount Gift Cards
Did you know there are website like GiftCardGranny that use buy unused gift cards for a portion of the cost. Paying just a portion of the card's face value gives you an instant savings!
8. Plan Your Meals
And plan your list as you plan your meal – if you need any frugal inspiration – look no further then Budget Savvy Diva's Frugal Eats
9. One-Stop Shop
Try and plan where you shop by how much can you do near them. Think in terms of gas and other errands.

10. Avoid Out-of-Season Produce
If for some reason you need produce that is out of season – head on over to the frozen section – many times they are the same quality when cooked – plus it is nicer on your poor wallet.
These are some of the ways that Budget Savvy Diva saves money when shopping if you NEED so more money saving tips –