Fashion Friday: Ruffle my Feathers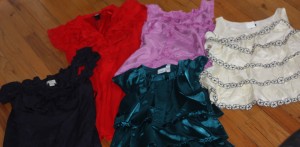 I love Fashion but I hate paying tons of money to look great. I believe you need two things the knowledge of what looks good on you and the skill to find it for less. I encourage you to get rid of all the items in your closet that you do not wear. They cloud up your options to make really great outfits because you can't see your clothes! If they are in good condition sell the at a consignment store or a place like Plato's closet, or host a clothing swap. Clothing swaps are a blast!
Add a ruffle. They are fun, flirty, and perfect for spring.
The top three tips for springs are bright colors, ruffles, and prints.
The best things about about ruffles is they can hide, enhance, and make your self expression easy. I have assembled my ruffle collection for your reference. The best part is I snagged all these ruffles for less than $35.00 total not each item. The red dress was $4.00 HM goodwill, Navy dress was $4.00 Loft goodwill, Blue silk shirt was $3.50 Plato's closet,  JCrew $9.99 outlet, Purple Silk JCrew shirt $9.99 outlet.
The best fashion tip I have for you is to do something fun with ruffles make sure they enhance your features. They can also be able to used to  hide parts that you would rather not accentuate. I say large ruffles on the bottom not small ones and small ones on top if you want to make that area larger. We must enhance my bust. LOL