MUST READ: Family Finds $45,000…And RETURNS IT!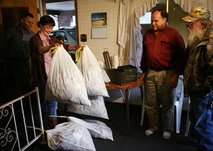 This gives me so much hope 🙂 Much more then
Earlier this week, Salt Lake City man Josh Ferrin and family closed a deal on a new home. When Josh entered the garage, he found a hatch, climbed inside, and pulled out a metal box…which contained A LOT of money!
$45,000!!!! in plain old cash!!!
He thought about the home's previous owner, Arnold Bangerter, who died in November and left the house to his children.
"I could imagine him in his workshop. From time to time, he would carefully bundle up $100 with twine, climb up into his attic and put it into a box to save. And he didn't do that for me," Ferrin said of the man who had worked as a biologist for the Utah Department of Fish and Game.
Bangerter purchased the home in 1966 and lived there with his wife, who died in 2005.
After most of the money was counted, Ferrin called one of Bangerter's sons with the news.
Kay Bangerter said he knew his father hid away money because he once found a bundle of cash taped beneath a drawer in their home, but he never considered his dad had stuffed away so much over the years.
"He grew up in hard times and people that survived that era didn't have anything when they came out of it unless they saved it themselves," Kay Bangerter, the oldest of the six children, told the Deseret News. "He was a saver, not a spender."
Bangerter called the money's return "a story that will outlast our generation and probably yours as well."
"I'm a father, and I worry about the future for my kids," Ferrin said. "I can see him putting that money away for a rainy day and it would have been wrong of me to deny him that thing he worked on for years. I felt like I got to write a chapter in his life, a chapter he wasn't able to finish and see it through to its conclusion."
Would YOU give back the money? Please be honest 🙂
Thanks! Yahoo News