Recipe: Bacon Strip Pancakes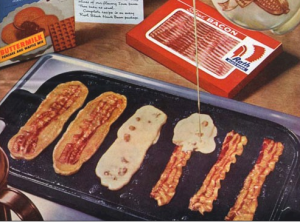 I so want to make these – they look so yummy!!! Except I would have to use turkey bacon
Bacon Strip Pancakes
Ingredients:
1 strip of bacon per pancake
pancake batter
1 cup self-rising flour
1 cup milk
1 large egg
1 tablespoon sugar
1 tablespoon olive oil
Directions:
Fry bacon until done over medium low heat. Remove from pan and place on paper towels.
Remove most of the bacon grease from pan or griddle except for a thin layer.
Return bacon to skillet . Spoon pancake batter over bacon. Cook pancake like normal 🙂
Serve with syrup if you like 😉
 Pancake batter recipe makes approximately 8 pancakes.
Enjoy 🙂
Thanks! Electric Recipes