Pineapple Angel Food Cake Recipe
If you like this recipe then PIN IT on Pinterest
Everyday at 5 pm PST/ 8 pm EST Budget Savvy Diva posts a NEW RECIPE 🙂
Make sure to follow Budget Savvy Diva on Facebook 🙂
Find Copy Cat Restaurant Recipes HERE
Find Crock Pot Recipes HERE
Find Gluten Free Recipes HERE
Find more Recipes HERE
This is one of the first "baking" recipes I learned as a child – so simple yet so delicious. The angel food cake pairs well with the sweetness of the pineapple. Feel free to pair this with Cool Whip.
Also there being only 2 ingredients in the recipe is not too shabby.
I have made this cake with many different types of " fruit pie fillings" and it really works well with all fruits ( remember to use 20 oz of filling 😉 )
Enjoy.
What You Need
Canned Pineapple ( 20 oz) – crushed or tidbits
Angel Food Cake Mix
Yellow Food Coloring ( optional)
What To Do
Preheat the oven to 350
Mix Cake Mix and Pineapple together ( do not drain pineapple)
( If you want to reserve some pineapple to use as a topping you can)
Optional: Mix in 7 drops of yellow food coloring.
Place mixture into a lightly greased 9×13 pan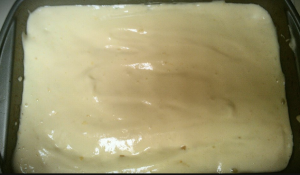 Place pan into the oven and cook for about 20 minutes ( should be golden brown on top)
Pineapple topping – Place pineapple in a hot pan and brown 🙂
Enjoy 🙂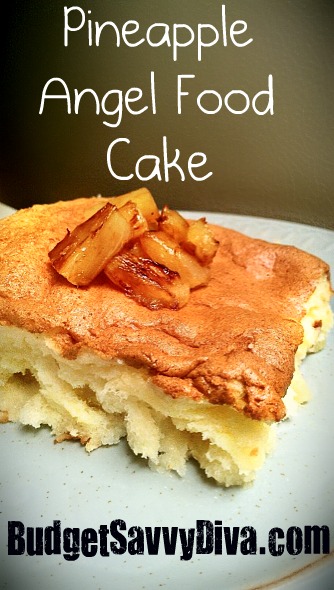 Click the small print icon below to print of the recipe.
Pineapple Angel Food Cake
Simple Cake that will be a hit with your family.
Ingredients
Canned Pineapple ( 20 oz) - crushed or tidbits
Angel Food Cake Mix
Yellow Food Coloring ( optional)
Instructions
Preheat the oven to 350
Mix Cake Mix and Pineapple together ( do not drain pineapple)
( If you want to reserve some pineapple to use as a topping you can)
Optional: Mix in 7 drops of yellow food coloring.
Place mixture into a lightly greased 9x13 pan
Place pan into the oven and cook for about 20 minutes ( should be golden brown on top)
Pineapple topping - Place pineapple in a hot pan and brown 🙂
Enjoy 🙂