Exciting News Concerning Budget Savvy Diva's Pin on Pinterest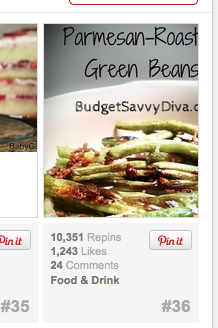 All I want to say is thank you!
One of my passions is cooking – with my own twist of course. I am so glad that so many readers pushed me to start posting my recipes.
Through the last few months I have really grown as a blogger and cook because of it ( Mr.Savvy thanks you as well 😉 )
I love hearing that you try my recipes – I try and make them family – friendly, frugal, and yummy.
Just a reminder a BRAND NEW recipe is posted daily at 1 pm PST/ 4 pm EST
Find all the recipes HERE  ( Over 120 Recipes)
Well today Reader Michelle let me know that my Parmesan-Roasted Green Beans Recipe is 34th ranking Pin on Pinterest Overall  for the month  – 14th in Food. Look at ranking HERE  – it is pretty easy to tell which recipe is mine 😉
Again thank you so much for all your support and all the pins.
I have a announcement tomorrow concerning my cooking and recipes ( do not worry it is good thing 😉 )
I would not be where I am today without all your support – so let's keep it going
Now Back To Cookin' Dinner