Frankenweenie – Clip + More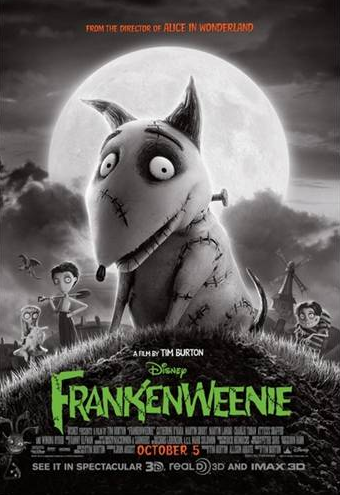 Coming this October is a Tm Burton throwback to a classic of… Tim Burton?  Yep.  In what could be the most fan pleasing, Tim Burtony film in years, the iconic director of Batman, Beetlejuice and Edward Scissorhands is re-teaming with Walt Disney pictures to direct Frankenweenie, his second stop motion feature which will be based on his Buena Vista short film of the same name.
Based on the Frankenstein.  Frankenweenie is a family film showcasing Burton's off kilter and highly sought after visual sensibilities in the story of a little boy's love for his dead dog whom he revives using electric current.  I was able to get a sneak peek at the first fifteen minutes and it is sure to be a crowd pleaser for all fans. I was so bummed we could not see more 😉 This is one film I would pay to see!
 The lovably off beat characters spring to life at 24 frames per second and pay homage, not only to horror classics, but to classic Burton, the man who designed Vincent, Jack Skellington and The Family Dog. It is amazing how it was done with stop motion but it looks so perfect
Check out this clip
Frankenweenie opens in 2D and 3D October 5, just in time to take the kids out for a Halloween treat that you can enjoy too.  The voice talents of Burton Alumni Catherine O'Hara and Winona Rider join Martin Short and Christopher Lee in an adaptation of Burton's on story, written by Big Fish and Corpse Bride scribe John August.
Disclaimer – Disclaimer — This was part of the Disney trip #BraveCarsLandEvent. Everything was paid for – travel, lodging, food, expenses. All opinions are my own.