How to Make a Sugar Dispenser from a Parmesan Cheese Container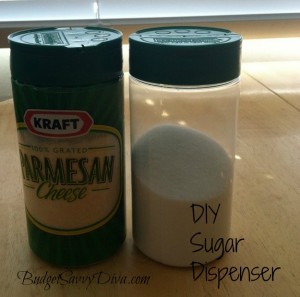 Other Great Tips!
Use Vinegar to Clean Your Drain
Use Coca Cola to Kill Slugs and Snails
Use Aluminum Foil to Soften Brown Sugar
Use Dental Floss to Cut the Perfect Cake
Use 7-up to make Flowers Last Longer
How to Make a Sugar Dispenser from a Parmasan Cheese Container
Remove label from empty parmesan cheese container.
Clean out and let dry.
Fill with sugar, or any other item you want to store.
This can be used for sugar or really anything dry that you buy in bulk small enough to fit through largest hold.  Including flour, goldfish, teddy grahams, etc.