Use Toilet Paper Roll to Organize Cords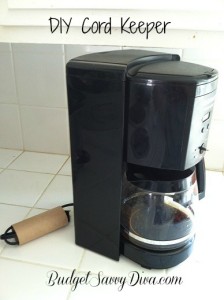 Other Great Tips:
Use Vanilla to Sweeten the Smell of your Home
Repel Mosquitoes With Dryer Sheets
Use Chalk to get rid of Grease Stains
Do you have a pile of cords that needs some organization?  
Here is a tip to use a toilet paper roll to help:
Grab an empty toilet paper roll tube
If would like you can cover with pretty paper.
Fold up the cord leaving out length needed to reach item and outlet
Slide through empty toilet paper roll
 Use behind tv stand, at computer/printer station, for kitchen appliances, in the bathroom for curling iron or hair dryer cords, or just about anywhere.