Aveeno Active Naturals Sunscreen Class Action Lawsuit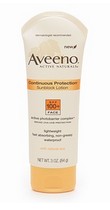 Aveeno Active Naturals Sunscreen Class Action Lawsuit
Johnson & Johnson falsely advertises the effectiveness of its 70-100+ SPF "Aveeno Active Naturals" sunscreen products, allowing it to overcharge customers for a product that is no more effective at blocking damaging sun rays than its less expensive "low SPF" sunscreen products, a class action lawsuit claims.
Plaintiff Guillermina Contreras alleges in the Aveeno Active Naturals sunscreen class action lawsuit that Johnson & Johnson falsely advertises that its sunscreen products with SPF values ranging from 70 to 100+ provide more sun protection than Aveeno SPF 55.  

According to the FDA, however, sunscreen products labeled with SPF values more than 50 provide no additional clinical benefit over SPF 50 products and are misleading to the consumer, the class action lawsuit says. 
Read all the details HERE.