Things Expected to be More Expensive in 2013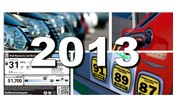 Here is a list of some of the things that people are thinking will be more expensive in 2013:
 Grocery Prices expected to increase as much as 4%.  This is mainly due to the drought this past summer that hurt farmer big time.  The USDA expects overall food prices to rise 3.5-4% in the coming year.
Employee health care premiums are expected to rise an average of 6% in 2013, according to Aon Hewitt, a human resource consulting firm.  Actual increase will vary by state.
T-Mobile has announced that they will start charging full price for cell phones instead of offering a reduced rate for signing a contract.  Other carriers could easily follow suit.
If you thought accessories for the iPhone were expensive before, it is thought that the accessories for the iPhone 5 will be even more costly.
Shipping rates are expected to rise even farther than they have in 2012.  What this means for most of us is that the Free Shipping offers from online retailers will become less and less.
Daily Deals on services like 1/2 off a spa treatment, will become harder and harder to find.  With more competition and not enough profit, you will find daily deal sites focusing more on product deals and less on service deals in 2013.
Thanks to DealNews for this great info!