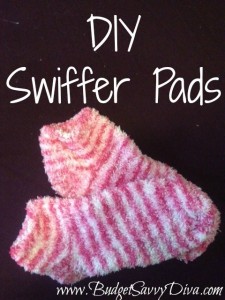 Great Tips!
DIY Swiffer Pads
Like the idea of a Swiffer, but hate spending money on the pads? Here's an idea for DIY Swiffer pads that are reusable!
Take a chenille sock and pull it over the head of the Swiffer mop. It's as easy as that!
After use, throw the sock into the washing machine, making it reusable.
Don't forget, most dollar stores sell a pair of chenille socks, making this DIY even more frugal!