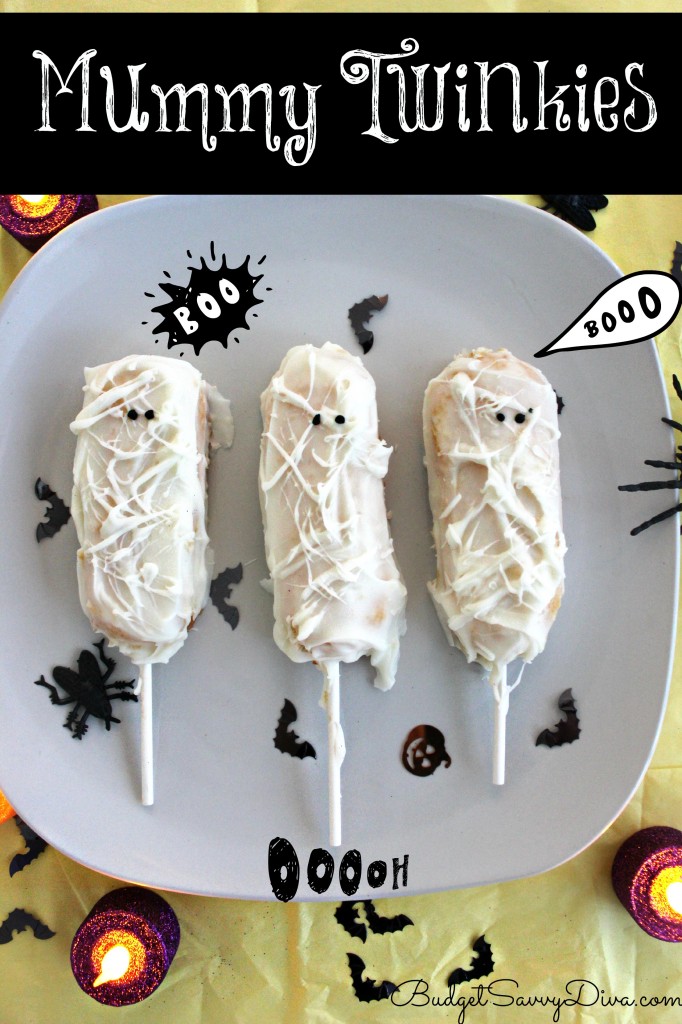 Make sure to pin the recipe or REPIN
Everyday at 1 pm PST/ 4pm EST Budget Savvy Diva posts a NEW RECIPE 🙂 I might miss t his time every now or then – but I know you understand
Make sure to follow Budget Savvy Diva on Facebook 🙂
Find Copy Cat Restaurant Recipes HERE
Find Crock Pot Recipes HERE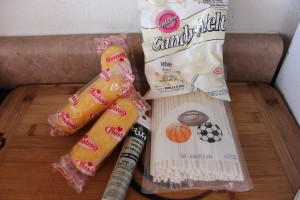 Ingredients
Twinkies
White Candy Melts
Black Icing
Candy Sticks – Optional
Directions
Take a cookie sheet and line with parchment paper
Melt chocolate melts ( I use the microwave method)
Spread the chocolate over the twinkies – I used a knife. Place a candy stick at the end of each twinkie
Place twinkies onto the cookie sheet. Place the cookie sheet into the freezer – wait 1 hour
Melt more chocolate ( about 1/2 cup) – Use either a fork or tooth pick get chocolate onto the twinkies ( this is perfect for kids to do since it does not have to be perfect )
Once you are happy with you mummy bandages. Use the icing and make 2 eyes on each
Let the chocolate harden and Enjoy!
If you make any of my recipes or crafts please take a picture and place it on Instagram or Twitter – use the hashtag #budgetsavvydiva so I can easily find it 🙂
For more Halloween Ideas Please Check out the Budget Savvy Diva Halloween Pinterest Page
Make sure you are following Budget Savvy Diva on Pinterest
Mummy Twinkies Recipe
Ingredients
Twinkies
White Candy Melts
Black Icing
Candy Sticks - Optional
Instructions
Take a cookie sheet and line with parchment paper
Melt chocolate melts ( I use the microwave method)
Spread the chocolate over the twinkies - I used a knife. Place a candy stick at the end of each twinkie
Place twinkies onto the cookie sheet. Place the cookie sheet into the freezer - wait 1 hour
Melt more chocolate ( about ½ cup) - Use either a fork or tooth pick get chocolate onto the twinkies ( this is perfect for kids to do since it does not have to be perfect )
Once you are happy with you mummy bandages. Use the icing and make 2 eyes on each
Let the chocolate harden and Enjoy!