"Disclosure: This is a sponsored post by Sanofi Genzyme and Regeneron Pharmaceuticals, Inc. as part of a paid program.  All opinions are my own."
Here's a question for all of you: does anybody out there have persistent problems with unexplained itching and rashes?  My husband has a chronic problem on his leg that just won't go away, and I can't get him to stop scratching it, which makes it worse.  He's really sensitive about it and embarrassed by his skin.  It turns out he has atopic dermatitis, which is a chronic form of eczema[1] that is characterized by unpredictable flare-ups triggered in part by a malfunction in the immune system.[2],[3],[4],[5]
I looked into his disease to see if I could get any useful information, but I was disappointed to see that there weren't a lot of people talking about it.  I wasn't able to find enough helpful information.  This is why I was happy to come across Understand AD, a national campaign focused on educating people about moderate-to-severe atopic dermatitis and raising awareness about the physical and quality of life impact of the disease.  Understand AD is a Sanofi Genzyme and Regeneron program in collaboration with the National Eczema Association and the Dermatology Nurses' Association.
This is a real problem that affects many people. An estimated 1.6 million adults in the United States are living with uncontrolled moderate-to-severe atopic dermatitis.[6] Symptoms can include red rashes, intense itch, dryness, cracking, crusting and oozing of the skin, and they can occur on any part of their body.[1]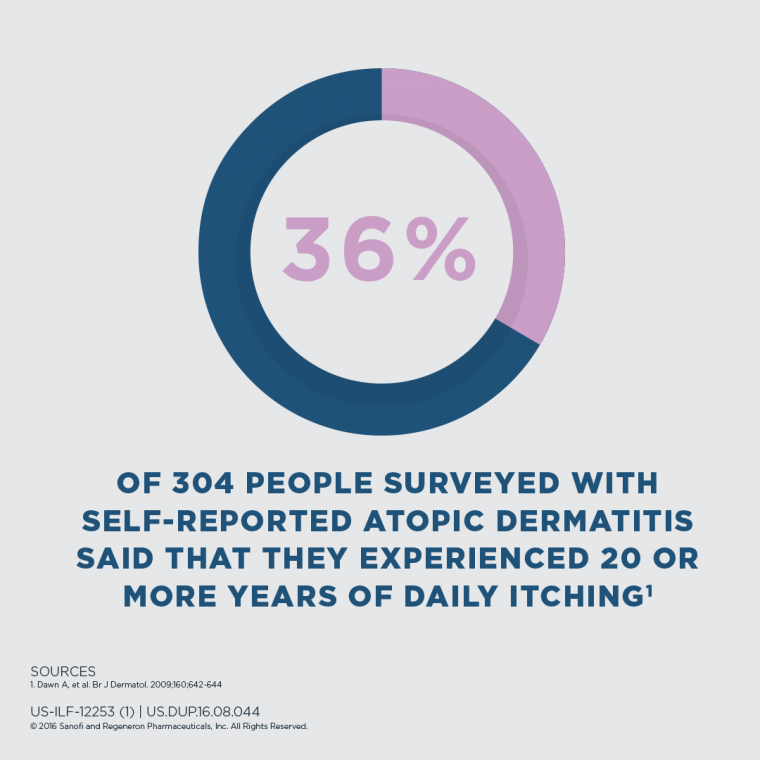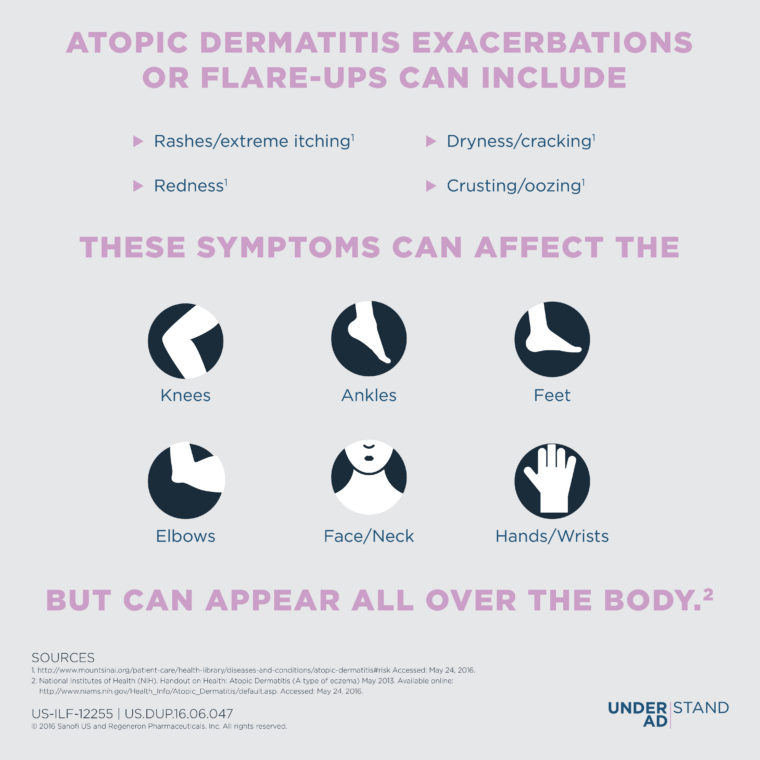 Understand AD was the best resource I was able to come across, and it seeks to increase awareness of my husband Eric's exact problem.  Elizabeth Falkner, a celebrity chef whom I've seen a ton on Food Network and Bravo's Top Chef, is a spokesperson for the campaign and suffers from the disease herself.  In her videos, she talks about the same types of experience that my husband deals with.
When Elizabeth was in her thirties, as her career as a chef was starting to take off, she developed red, flaky, super-itchy lesions on her lower legs.  These symptoms eventually also appeared on her hands.  The stress of running a restaurant, the constant handwashing and dry air and intense heat from the oven, all elements of her profession that she loves, were pretty much a recipe for disaster for her skin.
Please enable Javascript to watch this video
Eric sometimes loses sleep and finds it difficult to function or pay full attention at his job, because he becomes so irritated by his skin disease.  Every solution we've tried has just been a temporary fix and nothing has really worked for him.  It's a nice feeling to know that there are other people out there suffering from the same problem of atopic dermatitis, and there are others who continue their efforts to raise awareness around this skin disease.
I'm so glad that there is an effort to promote awareness for this disease, because it is more than just a "skin condition." In addition to chronic physical symptoms, people with atopic dermatitis may be affected by the disease – psychologically with stress, embarrassment and anxiety, socially and even professionally – as they deal with the frustration of ongoing physical symptoms.[7],[8],[9]  My hope is that more people will share their stories of how atopic dermatitis affects them so other people living with the disease know they are not alone.
I encourage readers to visit www.UnderstandAD.com to learn more!
I received compensation to write this post. Regardless, all opinions expressed are still 100% my own. I am disclosing this in accordance with the Federal Trade Commission's 16 CFR, Part 255 Guides Concerning the Use of Endorsements and Testimonials in Advertising, Sara Lundberg Disclosure.
---
[1] http://www.mountsinai.org/patient-care/health-library/diseases-and-conditions/atopic-dermatitis#risk Accessed: September 13, 2016.
[2]National Institutes of Health (NIH). Handout on Health: Atopic Dermatitis (A type of eczema) May 2013. Available online: http://www.niams.nih.gov/Health_Info/Atopic_Dermatitis/default.asp. Accessed: September 13, 2016.
[3]Gittler JK, et al. Progressive activation of TH2/TH22 cytokines and selective epidermal proteins characterizes acute and chronic atopic dermatitis. J Allergy Clin Immunol. 2012; 130:6. 1345-1354.
[4]Leung DYM, Boguniewicz M, Howell MD, Nomura I, Hamid QA. New insights into atopic dermatitis. J Clin Invest. 2004;113:651-657.
[5]Lebwohl MG, Del Rosso JQ, Abramovits W, et al. Pathways to managing atopic dermatitis: consensus from the experts. J Clin Aesthet Dermatol. 2013;6(7 Suppl):S2-S18
[6]Adelphi Final Report, data on file
[7]Misery L, Finlay AY, Martin N, et al. Atopic dermatitis: impact on the quality of life of patients and their partners. Dermatology. 2007;215:123-129.
[8]Zuberbier T, Orlow SJ, Paller AS, et al. Patient perspectives on the management of atopic dermatitis. J Allergy Clin Immunol. 2006;118:226-232.
[9]Eichenfield LF, Tom WL, Chamlin SL, et al. Guidelines of care for the management of atopic dermatitis. Section 1. J Am Acad Dermatol. 2014;70:338-51.
US-ILF-13169 | US.DUP.16.09.046