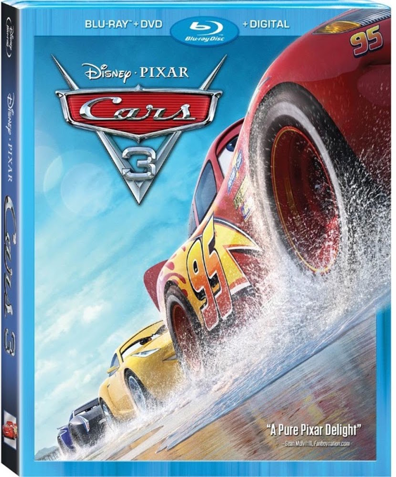 Cars 3 is available to purchase on Blu-ray November 7 and if anybody has concerns about whether Lightning McQueen has still got it, you should definitely give this movie a shot.  Whether you are a Cars Fan or just a Pixar Fan, Cars 3 Aims to please, once again pushing boundaries and raising eyebrows.
The dynamic poster for Cars 3 won me over at the start and I knew this was destined to be a worthy sequel in the Cars franchise.  It has a great story that reminds me of why Rocky had so many sequels.  Lightning McQueen is not done yet and this movie is one of the moore recent Disney releases to feature a positive message for girls who want to break boundaries.
The film follow the further trials of Lightning McQueen as he tries to maintain his prowess on the racetrack after a major wreck causes him to fear being forced into early retirement.  When he returns to racing, he gets a trainer, Cruz Ramirez, who always wanted to be a racer.  The story is full of corporate interests and plotting that takes place off of the racetrack and It is as much about Cruz's dreams of racing as it is about Lightning's career.
All in all it is a very good addition to the Cars world that feels more like the first film than anything else, while taking the star character to new places.   The animation is the best I've seen yet and really captures the excitement of racing with detailed visuals and striking sound.  You will forget that what you are looking at is not real and never actually happened.  Cars 3 is another top notch family movie from Disney and Pixar.
Disclaimer – I received a copy of the film for the review