Fresh by Design.TM It's refrigeration, reinvented.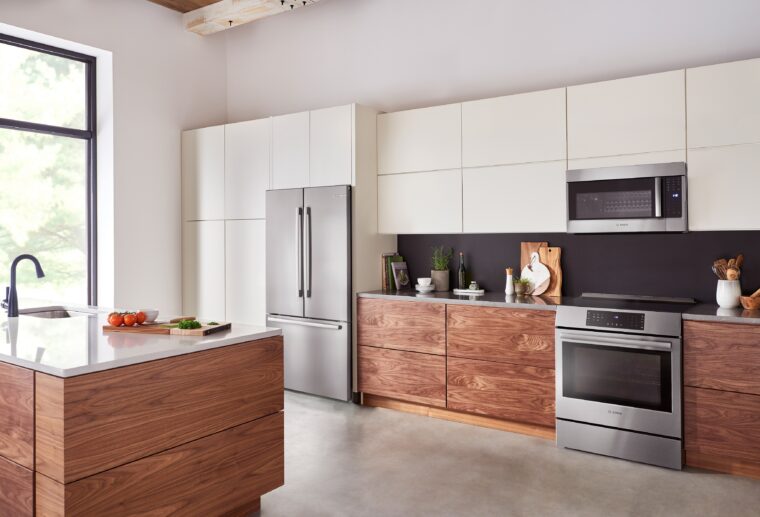 New Design and technologies make for a stylish and efficient new addition to your kitchen just in time for the holiday season. We just found out about the all-new Bosch counter-depth refrigerators at Best Buy, and we are already salivating over how easy the new trademarked technologies are going to make storing, prepping, and snacking during the winter.
We are not cold weather lovers. Growing up in Sunny LA did not prepare us for how chilly it gets during the cold months in Oregon. If it doesn't snow, it rains, so it's always soggy, not to mention how unpleasant it is to drive in the rain. Getting two terrible twos and a newborn loaded in the car is hazardous enough on a sunny fair weather day. This winter, we are staying in. That's why I'm so excited to share what I've learned about the new Bosch counter-depth refrigerators at Best Buy. These features are going to improve the quality of your groceries by keeping them fresh for longer and helping you organize, so nothing goes to waste. If you are making changes to your kitchen ahead of family visits and holiday meals, head over to Best Buy and ask about the Bosch counter-depth refrigerator for yourself.
8 Trademarked Technologies that Make Bosch the Best
The FarmFresh System™ is like a suite that uses a variety of technologies to improve the way your refrigerator preserves the freshness of the food you store. Foods stay fresh for up to 3x longer.* Thus it reduces the chance of waste and improving your efficiency. The four new technologies used in the FarmFresh System are:
VitaFreshPro™ –With Preset settings, the Bosch refrigerator automatically balances temperature and humidity for optimal results.
FreshProtect™– This technology slows down the ripening process of fruits and vegetables by absorbing ethylene, which naturally occurs. It's how the Bosch refrigerator keeps your produce fresh for longer.
MultiAirFlow™–  One of the ways cool and consistent temperatures are evenly distributed around the system is this technology that circulates fresh, chilled air throughout the entire refrigerator.
AirFresh®– This filter preserves the freshness of the air by absorbing the toughest food odors.
UltraClarityPro™ is a water filter that reduces >99.9% of potential sediments in your water, chlorine, and chloramine included.
The FlexBar™ is a real space saver by creating additional room for wine bottles, condiments, eggs, etc.
The Home Connect™ app allows remote access to your Bosch refrigerator system from your smartphone or tablet. You can operate the refrigerator's controls from anywhere.**
Built-In Style
There are a plethora of other reasons to purchase one of the all-new Bosch counter-depth refrigerators at Best Buy now. The sleek, elegant, and intuitive design is very attractive inside and out. 4 out of 5 tempered glass shelves are adjustable to provide personalized storage. Plus, you get more space with half-width 3-gallon door bins and two humidity-controlled compartments. The internal water system comes with a replacement filter. The controls are touch-sensitive, and the interior lighting is LED. There are even an automatic ice maker and an alarm in the door that sounds if you leave it open. It all adds up to convenience and efficiency that saves you money.
What's great about the stylish aspect of the design is how well it fits into any kitchen. The true counter-depth design has the refrigerator flush with the counter. The hinges are hidden as well. Even the feet are tucked away discreetly, so there is a built-in look that adds to the appeal of your entire kitchen.
*As compared to a Bosch refrigerator without FarmFresh System™. Results may vary among different foods.
**Connectivity and speed varies based on network and Wi-Fi levels.