FRUITY PEBBLE'S YOGURT BREAKFAST POPS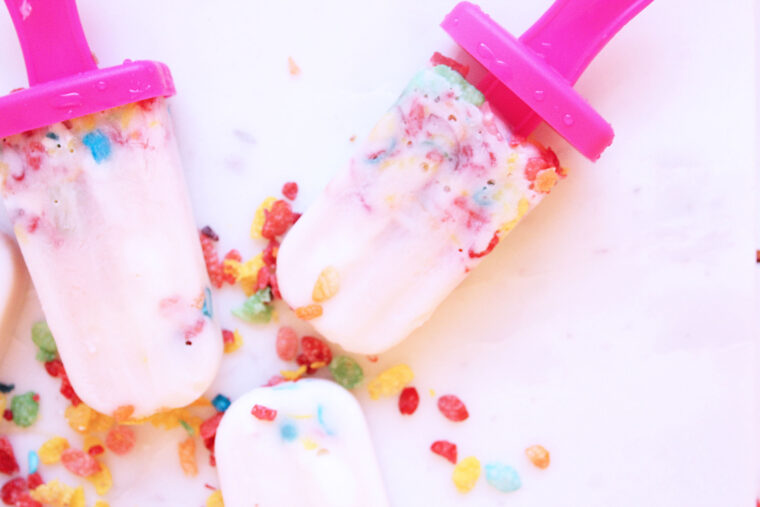 Fruity Pebbles are BY FAR my favorite cereal. When I go to the local frozen yogurt shop I ALWAYS add Fruity Pebbles to my tart frozen yogurt – what toppings do you add? I love the idea of making my own version at home – especially something I can make with the twins 🙂
These breakfast pops are great for any age, and they're really delicious.  Kids will love 'em 'cause they're like a Popsicle, and Mom's will love them because they're easy to make, and a great way to get picky eaters to finish their breakfast!
FRUITY PEBBLE'S YOGURT BREAKFAST POPS
Ingredients
Popsicle forms to freeze the pops in
1 pint of Vanilla yogurt
1 small carton of strawberry milk
1 teaspoon of honey
2½ cups of fruity pebbles
Instructions
makes 4 to 8, depending on size of Popsicle mold.
In a medium bowl, mix yogurt, milk, honey, and fruity pebbles until blended.
Put about 1 Tablespoon of fruity pebbles in the bottom of the Popsicle molds, and pour yogurt mixture on top to fill molds, and place in freezer overnight.
To serve, take Popsicle out of the freezer, and remove mold from Popsicle stick, and serve for breakfast, or a treat anytime.