11 DIY Projects You Can Do to Make Your Home More Dog-Friendly
11 DIY Projects You Can Do to Make Your Home More Dog-Friendly
Dogs are more than just animals. They are great companions  and are popularly known as man's best friend. We all love our dogs, which is why it is important that we invest in their happiness and health. One of the best ways to care for your dog is by making your home more dog-friendly. In this guide, we will show you some basic projects you can do to make your home more dog-friendly. 
11 DIY Projects to Make Your Home More Dog-Friendly
1) Flooring
Photo by Archie Fantom on Unsplash
If you want to make your home more dog-friendly, you should consider working on the flooring. You want to make sure the floor is safe and comfortable for your dog. With your dog running through your home, the harder the floor the better. Tiles are great for dogs in hot weather, and they are scratch proof as well. You should avoid carpeting, as it can hold hair and bacteria. Wood flooring is also great, and you can use a belt sander for the finishing, to ensure that it is smooth and safe for your dog. You would need the best belt sander, as stated by Woodworknation. 
2) Petscaping Your Yard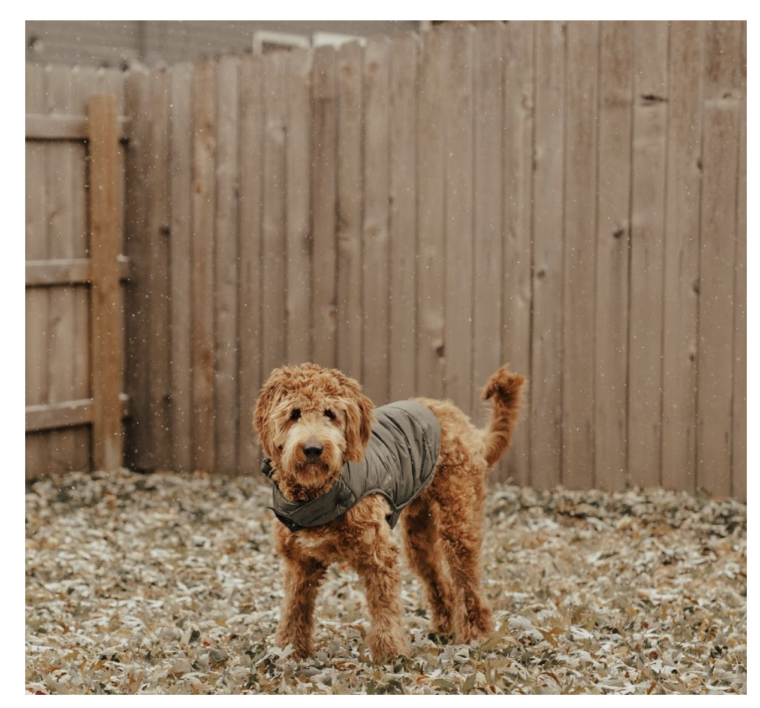 Photo by Brooke Cagle on Unsplash
If you allow your dog to roam in the yard, tick and flea prevention should not be your only concern. You need to build a little fence to limit the movement of your dog. This would prevent them from going out and possibly consuming plants that are hazardous to dogs. Your pet is also at risk of wandering off and getting lost without a fence in your yard. This fence will help keep your dog within safe distance.
3) Dog Gate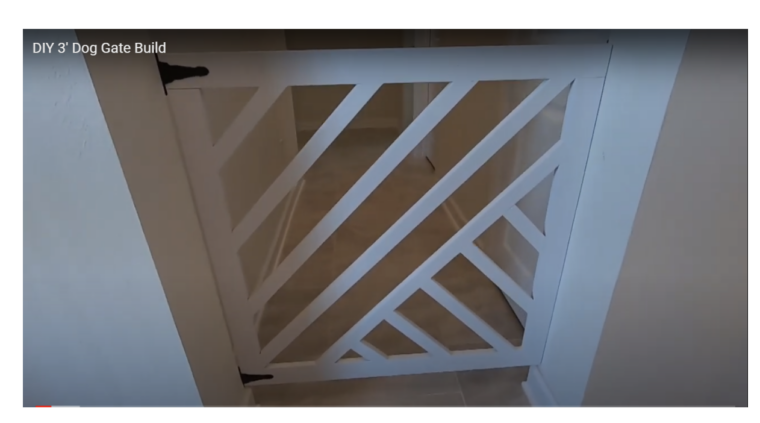 Source: https://www.youtube.com/watch?v=BE6uQtCX0wM&t=19s
You can also build a dog gate in your home to set proper boundaries for your dog. You can place the gate at the dining or others of the house you do not want the dog to access. Cordoning off the kitchen may also be a good idea. This would help with control while letting your dog know her limit. 
4) Feeding Station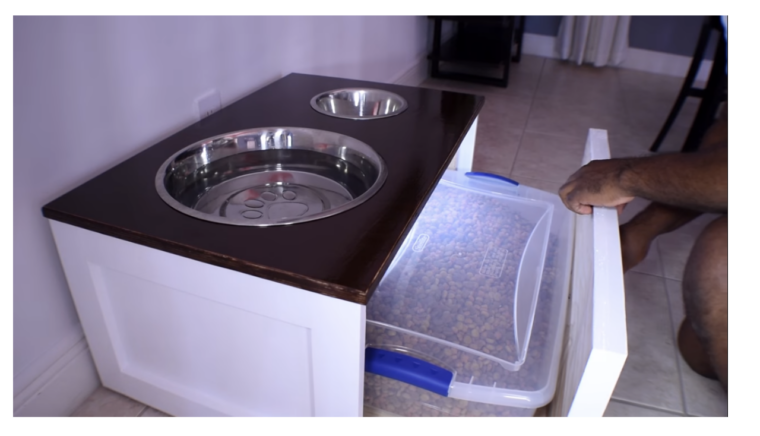 Source: https://www.youtube.com/watch?v=YeQAckm7r3k&t=16s
If you do not want to position the bowl of your dog randomly around the home, you can build a feeding station for your dog. This feeding station can hold the cans, bowls, and food bags of your dog. It would also save you some space while helping to keep your home clean as well. The elevated platform would also provide your dog with a safer and more convenient eating position, relieving them of back and neck pain. 
5) Dog House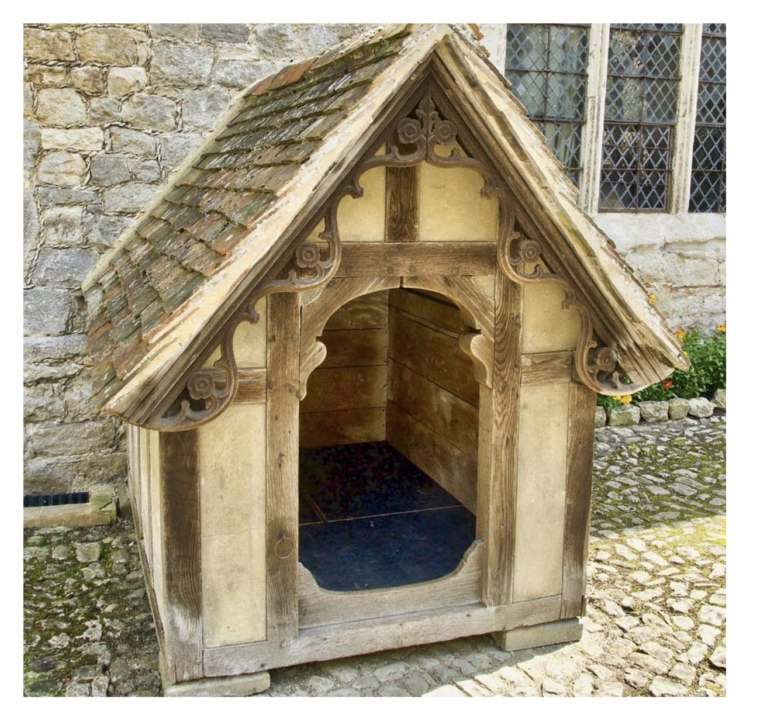 Photo by MemoryCatcher on Pixabay
You can also build a home for your dog inside your home. This house would serve as a go-to place for your dog when she needs to curl up or have a little bit of privacy. They could also retire to the house when they need a location that offers more warmth than the room temperature. 
6) Dog Bed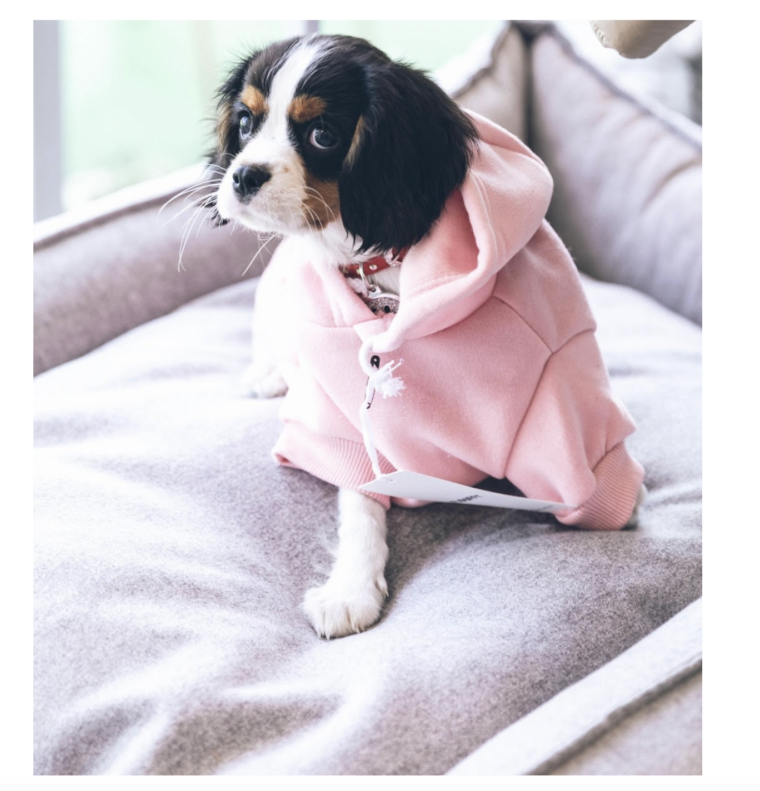 Photo by FLOUFFY on Unsplash
You can also make a very comfortable dog bed for your dog. This is one DIY project that your dog would really appreciate. Our canine friends always need a comfortable and cozy place to retire to most times, and a dog bed is one of those places. You can execute this project with ease, as all you need is just the right material and plushy foam. You can build a dog crate and insert the bed in it or you can place the bed in the doghouse. 
7) Convenient Entry and Exit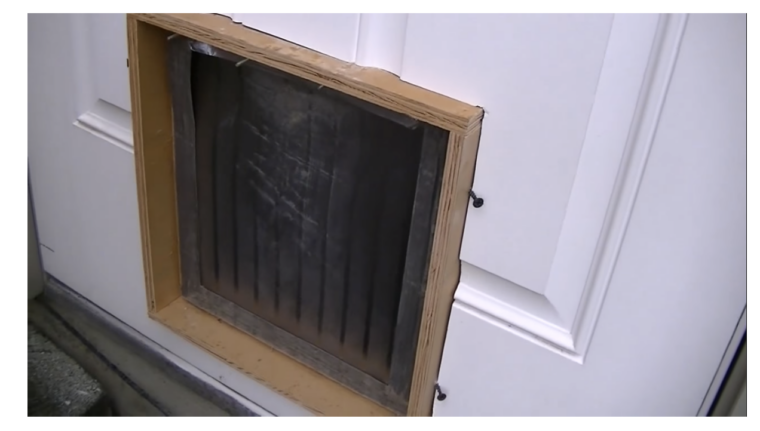 Source: https://www.youtube.com/watch?v=tcrm27qKvk0&t=22s
Another great way to make your home more dog-friendly is by creating convenient entry and exit points. After restricting your dog to certain areas they should not go to in the house, you want to make sure they have easy access to the areas they are allowed to access. You can install a mini door in the areas you want to access in your home. You can achieve this with a few pieces of wood and some basic woodworking tools. 
8) Dog-Proof Furniture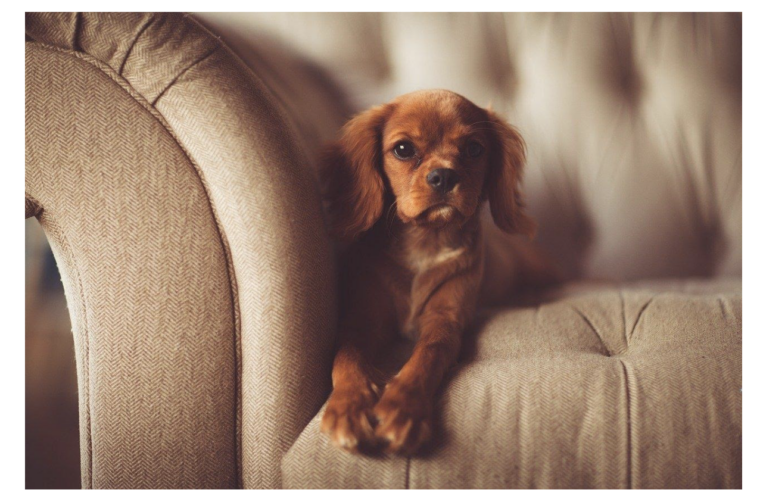 Photo by Pixels on Pixabay
When you have a dog at home, you need to make sure all your properties and furniture are made with pet-friendly materials. You should go for pieces of furniture that are dog-proof, which means they have to be scratch-proof. Dogs have sharp nails, and they grow pretty fast, even when you groom them regularly. Hence, you want to make sure the material can resist scratch. When it comes to fabrics, you should go for darker colors. Darker colors and patterns conceal stains. 
9) Avoid Decorating with Breakable Knick-Knacks 
When you have a dog or other pets at home, you need to avoid decorating with breakable knick -knacks. You might lose an entire collection of knick-knacks due to the careless movement of your dog. Rather, you can decorate your home with pictures, framed prints, and photos. There are many DIY decorations you can do on your walls and around your home that your dog cannot destroy. 
10)  Wall-Mounted Dog Organizer
Taking your dog out for a walk every morning is great. But it can be rough some mornings, as your dog might be itching to go out while you are looking for his leash. With this project, you would be able to keep all your dog's accessories, including his leash, in one place. You can also use it to organize your keys, hang your coats, and many more. The project takes less time and resources to complete.
11)  Dog Ramp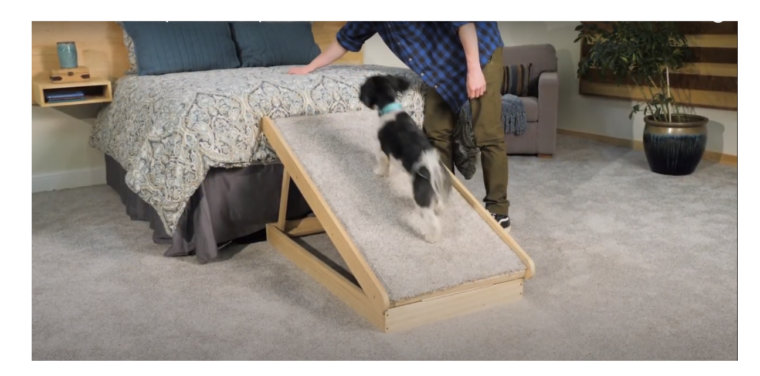 Source: https://www.youtube.com/watch?v=gecSY1rzKig&t=25s
If your bed or couch is too high for your dog to climb, you might want to consider building a dog ramp. This would make it easy for your dog to access hard-to-reach areas. This project is even more useful for small breed dogs, as they are not big enough to access great heights. 
Conclusion
Dogs are lovable and fun pets to be with, and they are a great addition to any home or family. With the projects on this guide, you would be able to make life easier for you and your dog. The projects would make your home more dog-friendly while leaving your dog happy and healthy.