Must Have Clothing and Diapering Accessories for Your First Kid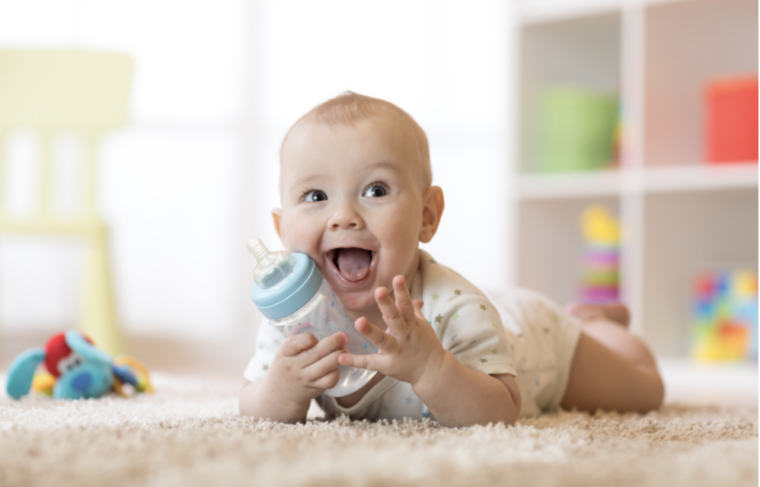 https://image.shutterstock.com/image-photo/cute-baby-boy-drinking-bottle-260nw-1021060435.jpg
Babies need stuff – lots of it, to be particular. First-time parents can often get confused about what to get for their child, as it is the first time they're shopping for baby stuff. While you can expect a lot of free advice from people near you, they might miss a number of key details related to the quality and quantity of the things you should buy for your child. 
When it comes to newborn kids, every little detail matters. You have to be prepared for them with all necessary clothing, equipment and other details. 
In this article, we list some of the must-have baby essentials first-time moms need to prepare for their children. These essentials are absolutely necessary, and there is no way around them. 
Baby Clothes 
When it comes to shopping for baby clothes, you should generally be looking for roomy, soft and long-lasting clothing items. The items you choose should last through frequent washes because children can be messy and need to have their clothes washed on a daily basis. 
You need to buy the following items for your kid as they start growing: 
Sleepers

; Sleepers are basically baby jammies or rompers that can hold up for both playing and sleeping sessions. These sleepers happen to be extremely convenient and allow the kid to nap immediately after they're done with their gagging and blabbering session. This saves you from unnecessarily changing their clothes and also allows you to change them only when it is required. 

Leggings and Stretchy Pants

: Leggings and stretch pants can help mothers change just one piece of clothing in the case of a leaking diaper or any other natural mess. You won't have to change their entire outfit if your child is wearing leggings or stretchy pants underneath. 

Bodysuits

: Bodysuits are basically known as long-sleeved baby shirts, which can be pulled on from over the baby's head and can then be snuggled under their diaper. Bodysuits come with a nice neckline, which comes in handy for giving comfort in hot weather. Parents in generally hot and tropical weather conditions should go for bodysuits as the preferred clothing option. Try to buy at least half-a-dozen bodysuits before your child is born. 

Outer Layers

: If your kid will be born in the winters or if you live in a state that is generally cold, you would need plenty of outer layers to keep your child warm and cosy. Start looking for fleece jackets, sweatshirts and zip-up sweaters to take care of the child. Fleece jumpsuits tend to be warm and cosy and can slip over almost everything. Look to buy larger sizes so that the baby is warm and comfortable and does not feel stuck. 

Socks or Booties

: Socks and booties are also necessary to buy before your kid is born. Don't go for expensive options and try to keep the cost on the inexpensive side. 

Pyjamas and Nightgowns

: Pyjamas and nightgowns are necessary as a nightwear and will help keep your child warm and cosy at night. Regardless of how cute they look, you should avoid sleepwear that comes with multiple snaps on it or may be difficult to put on and take off. Pyjamas should be flexible and should be easy to take off and put on. 
Diapering 
Your kid will probably need a few diapers the very moment they are born, which is why you should keep some with you at all times. The must-have items to buy here include: 
Diapers

: Regardless of the kind of diapers you use, make sure to know that your kid will need at least 4 to 5 diapers on a daily basis during their first few days. While some parents use cloth diapers, others use disposable diapers. If you will be using disposable diapers, make sure that you have a few different packs available with you, so that you can find the best fit, in case one fit disturbs your child's body. 

Diaper Pail

: Diaper pails are absolutely necessary as well and will help keep your house smelling nice and sweet, even with a child in the home. 

Diaper Rash Cream and Wipes

: Unscented wipes tend to be perfect for your baby's skin. These wipes allow you to clear away rashes and can run well with a decent diaper rash cream. 

Changing pad and table

: Since you would be changing a number of diapers, a changing table can be handy to use and make things comfortable. A changing pad or dresser can work wonders here. 

Diaper bag

: You need a decent bag to store all the diapers, which is why a diaper bag is an absolute necessity. Buy something cute, but nothing that comes at a compromise of space. The diaper bag you buy should be cute and elegant to look at but shouldn't come at a compromise of space. 
In conclusion, you should preferably avoid clothing that comes with dangling ribbons, tassels and strings. These clothes present a choking hazard, which you wouldn't want to be present around your little one. Just make sure that you buy simple clothing that will help keep your kid warm and cosy.
You can join Your Baby Club UK to benefit from more tips on preparing for your child. Check out their free babybox UK deal and become a member today.