MUST READ: Collection of Money Saving Tips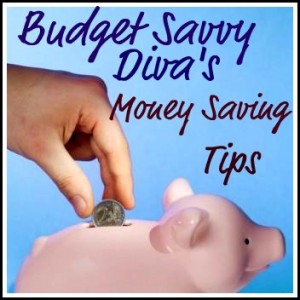 Need Some Extra reading – then why not take a look at Budget Savvy Diva massive collection of Money Saving Tips Enjoy
Markup Mondays Series:
Living Well For Less Series:
Living Well For Less: Frugal tips for Fab Makeup and Beauty Shopping
Living Well For Less: Taking Care of You Car
Dating on A Dime
Cheap Dates Featuring Picnic Recipe
Saving Money With Kids:
Frugal Fun for Kids: Fun-Fishing for Knowledge
Kids Frugal Fun: Re purposing Broken Crayons
Kids Frugal Fun: Easter Egg Learning
Holiday Budget Tip Ideas:
Inexpensive Valentine's Day Date Ideas
Inexpensive Valentine's Day Idea – Print Your Own Card
Guide to Buy
Stop Paying To Much
Stop Paying to Much for Insurance
What To Buy and Not Buy at Trader Joes
How To
How to Add Coupons to your Kroger Card
How to Save Money At Disneyland
How do I get my grocery budget lower?
Best Money Saving Tips
Finding frugal funds—investments that grow your savings faster
Save Major Money While Driving
Saving Tips on Entertainment: Read and Save
Laundry the FRUGAL WAY – SAVE money NOW
40 Frugal Shopping Tips to Live By
Amazing Frugal Recycling Tips!
Tips for Tipping in Every Food Scenario
Make Money
15 Ways to Create More Cash: Including Ideas for Starting a Home Business
Top 5 Tips to Request Freebies
Budget Savvy Diva Opinion:
Budget Savvy Diva's Opinion: Groupon Controversy over FTD Flower Deal – AND REFUND!
Borders Bankruptcy – CLOSING 200 Stores – MUST READ
Budget Savvy Diva Opinion: Misleading Promotion – What do you think
Another Post Concerning Company Deception and Coupons – MUST READ
Budget Savvy Diva Opinion – Company Charging ME Money To Review Their Products – MUST READ
Budget Savvy Diva Opinion: Coupon Fiasco at Target
Recalls:
Recall Roundup: Strollers, Chicken and Noodles, Frozen Fish
Recall Roundup: Slow cookers, Baby Jogger Jump Seats
HOT RECALL: Skippy Peanut Butter – Health Damaging Bacteria Found