Product NOT to Buy at Dollar Tree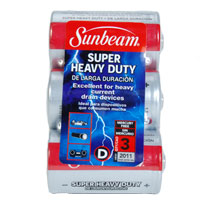 This is a Mr. Savvy rant 🙂
Dollar Tree is a great resource to find somethings cheap.  Lot's of savings can be made in fact if you need something and don't have those MM coupons handy.  Sometimes the savings just don't add up, though.  One example is garbage liners.  You usually get less in a package than at a regular grocery store and the product is cheap and unreliable.  You don't want to spill garbage all over your floor leave a leak trail across your house, so you probably should avoid these.
Recently, BSD and I made another interesting discovery.  We wanted to save a few bucks on batteries and picked up some Sunbeams at the Dollar Tree.  We needed 6 C's and they came in packages of three.  I thought this must be how they make money and it was alright with me, since buying two was still way cheaper than buying eight of a bigger brand like Duracell or Rayovac.  I had always experienced roughly the same power and duration from every battery I used so I didn't think there could be much difference in these cheaper batteries.  I was so wrong.  We installed these into a queen size air mattress that was supposed to take three minutes to inflate.  Ten minutes later it was nowhere near done and deflated dramatically overnight.  I was in disbelief and wasn't ready to through in the towell on the mattress so I picked up some alkalines and sure enough within seconds the bed was pumped full of air.  We've been sleeping well now, thanks to proper batteries.
I cannot believe how ineffective Sunbeam brand batteries are.  I'm using them on the Wii remotes and am almost through the package already.  No more Dollar Store Batteries for me.  You save nothing and get only frustration.