Shocking Trip To The Dollar Tree For Sunday Coupon Inserts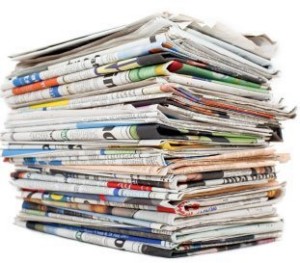 It has been a while since I have done a rant… but what happened today at my local Dollar Tree was too illogical to pass up.
If you did not already know I am not an extreme couponer…I can snag some amazing sales but I am not going through dumpster nor am I buying 20 newspapers. I tend to buy three Sunday newspapers each week at our local Dollar Tree. $3.00 for my weekly coupons fits my budget well – though I do miss out on some deals that require  4+ of the same coupon… I manage just fine.
Most Dollar Tree have a policy that you can only buy 3 newspapers – which makes sense to me…
So I left the house this morning 15 minutes before the Dollar Tree was suppose to open – drove two blocks and was greeted with a 30 + person line in front of the Dollar Tree. I could not believe it… As I stood there patiently waiting for the store to open – and the line building up behind me – I over heard an interesting conversation taking place in front of me… it was about extreme couponing of course….Many of them stating that they never even used a coupon before the show.
Finally the door is open in a panic there was a rush to the newpapers stand… and what was so shocking is that families were taking three newspapers per person. Now I understand if it is your husband and yourself – then three each is fine… but when you give each one of your kids three newspapers including place three in your baby's carriage – that is crossing the line a bit. One group in front of me took 21 newspapers.
Many of the people who were standing behind me never got a newspaper and they were waiting 10 minutes before the store opened.The people did not even go into the store – perhaps trying their luck at another Dollar Tree.
Can you believe that?
As I waited for the line to die down – I shopped and picked up $10.00 worth of items. Almost all the people who snagged newspapers were shopping.  As I checked out I noticed that the cashier was the store manager – and I nicely grilled her. I asked how many papers did they receive that week – and she said 120… She said she loved having the Sunday paper because it brought a lot of people in to the shop… As she was telling me all this …. 5 times… count them 5 times… she had to tell potential customers that they were out of Sunday newspapers.
Now there is something that I do not get… If you are allowing everyone in each party to take 3 newspapers are you not limiting how much money you could make? She gets the newspapers but does not make any money off of them – the money is made on all the other purchases that the customers make – by having to turn away customers it is like turning away money. .
This is how I saw it…. do you agree? I would love your opinion about this event ♥