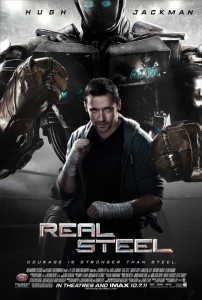 When I first heard about Real Steel I really did not know what to make of it -I love Hugh Jackman but did not know how robots were going to fit in. But as I saw more and more clips I began to get really excited about the film – and after seeing it I can tell you that a copy of a Real Steel Blu Ray will be in my book case. You know it takes a lot for me to tell y'all to spend money. But this movie is worth it – the story is so touching and sweet while also fulfilling the action you would expect.
The film takes place in the year 2020 where boxing  done  by robots that fight to the death.  Hugh Jackman plays Charlie Kenton, a washed up former fighter turned robot boxing promoter that has been down on his luck for a good while.  One day he finds out he has become  the official guardian to his 11 year old son Max (played by Dakoto Goyo). You cannot fabricate chemistry like that between Dakoto and Hugh – it was almost like they were not acting in some instances that they truly father and son. The heart of Real Steel is a father – son film. The robots especially ( Atom) are simply vehicles to tell it.
The ending is predictable but that does not mean I ( and almost everyone else) in the theater were not on the edge of their seats the entire time. Now the film is rated PG-13 but I would feel comfortable allowing 9 and above to see the film. The rating mainly comes from some foul language and robot violence.
Real Steel Opens Oct. 7th!!!
This was an all-expense paid trip thanks to the folks at Disney/DreamWorks.