*Bragging Shopping Trip Picture* Honey Bunches of Oats!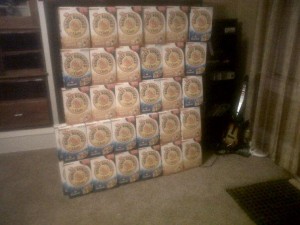 What do YOU think about this Shopping Trip?
Check Out MORE BRAG PICTURES
If you have a Awesome Shopping Trip Photo – please send it to [email protected]!
Thanks! Reader Megan
These are on sale this week at WAGS 2/$4 with a limit of 4. I did 11 transactions. If they weren't on sale they would be $2.99. There are 44 boxes in this picture.
Original total without sale: $131.56 ~ 85% saved
Original total with sale: $88.00 ~ 77% saved
I paid after coupons and RRs: $19.80