RECALL: Ice Cream Recalled for Not listing Peanuts on Label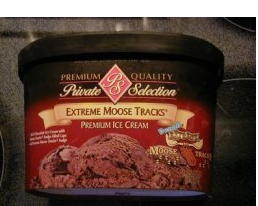 Wow… This is a pretty bad mistake on Kroger's part.
The nation's largest grocery store operator says people with peanut allergies could have a serious or even life-threatening reaction if they eat the Private Selection Extreme Moose Tracks ice cream being recalled.
The recall involves only 16-ounce pints of the product with a sell-by date of June 18, 2012 and the UPC code 11110 52909.
The ice cream was sold at Kroger stores in Alabama, Georgia, Illinois, Indiana, Kentucky, Michigan, Missouri, Ohio, South Carolina and Tennessee, as well as the company's Jay C, Food 4 Less, Owen's, Pay Less and Scott's stores in Illinois and Indiana.
Kroger says shoppers should return the product to supermarkets for a refund or replacement.
Thanks! Huffington Post