Brag Worthy Shopping Alert – 90% Savings at CVS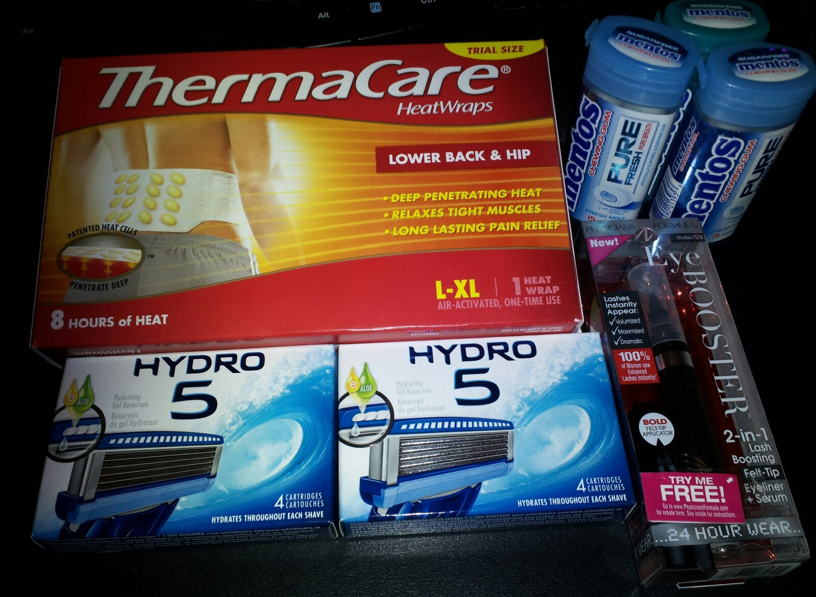 What do YOU think about this Shopping Trip?
Check Out MORE BRAG PICTURES
If you have a Awesome Shopping Trip Photo – please send it to [email protected]!
Thanks! Reader Kelly
This is what she wrote —
I am kinda new to couponing so I was extremely pleased with this shopping trip to CVS………
I did 2 transactions,
TR#1- 1-Physicians Formula Lash Boosting Eyeliner $10.99
Used 20% off CVS coupon
Used $7.00 ECB's from previous purchase last week
Paid with tax a total of $1.94
Received $7.00 ECB & will submit for MIR up to $10.95 (specially marked packages)
TR#2- 1-Thermacare Heat Wrap $3.79
3-Mentos Gum Bottle 3/3.00
2- Schick Hydro 5 Refills @8.49 ea- $16.98
Used 2 $.55 Mentos Gum Coupons (accidentally picked up 3 gums thinking I had 3 coupons oops!)
2 $2.00 off Shick Hydro refills
$10.00 ECB from purchase a couple weeks ago & used $7.00 ECB from TR#1
Paid with tax $1.81
Received $3.79 ECB from Thermacare Heat Wrap
$8.00 ECB from Schick Refills
So overall I paid $3.75 for $34.76 in products and still have $11.79 ecb and submit mir for 10.95 so I guess after all that they paid me $18.99.
WOW I can't believe I did this! Go me!!!!