Broccoli and Cheese Casserole Recipe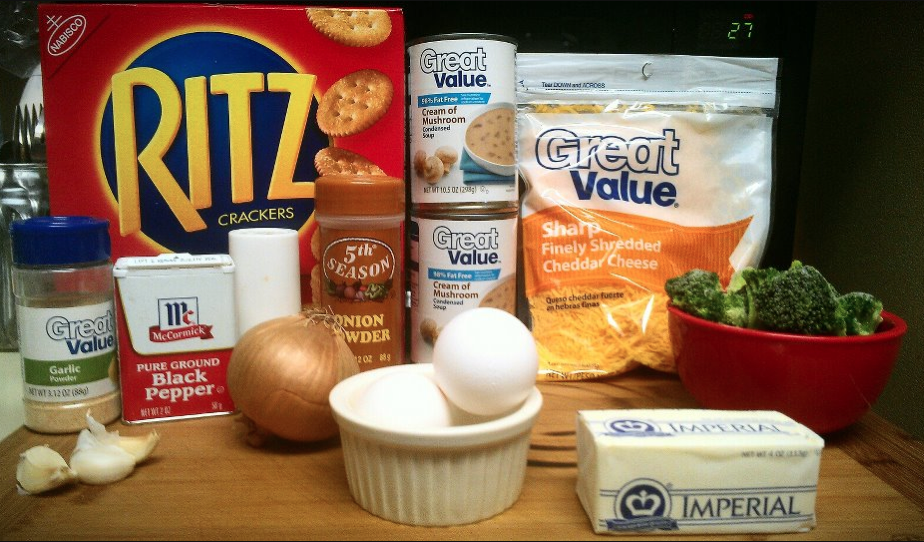 If you like this recipe then PIN IT on Pinterest
Everyday at 5 pm PST/ 8 pm EST Budget Savvy Diva posts a NEW RECIPE 🙂
Make sure to follow Budget Savvy Diva on Facebook 🙂
Find Copy Cat Restaurant Recipes HERE
Find Crock Pot Recipes HERE
Find Gluten Free Recipes HERE
Find more Recipes HERE
One thing I love about casseroles is that you can sneak a TON of veggies without anyone knowing ( My husband is not too fond of veggies 😉 ).  This is one of is extremely frugal but does not skimp out on flavor. Feel free to throw in some cooked shredded chicken to make this dish a even yummier meal.
Enjoy 🙂
What You Need
20-ounce packages frozen chopped broccoli, cooked and drained
1 Teaspoon of Pepper
Pinch of salt
1/2 Teaspoon of Onion Powder
1/2 Teaspoon of Garlic Powder
1 cup of chopped onion
3 Garlic Cloves minced
1 cup sharp cheddar cheese
2 10 3/4-ounce can condensed cream of mushroom soup
2 eggs beaten
2 cup crushed Ritz crackers
3 tablespoon butter
What To Do
Preheat oven to 350.
Heat 1 tablespoon of butter in a medium size skillet. Added chopped onions and cook for 10 minutes then add garlic and cook for one minute.
In a large bowl add: Onions, Garlic, Cheese, Brocolli, Garlic Powder, Eggs ( beaten), condensed cream of mushroom soups, Onion Powder, Salt, Pepper.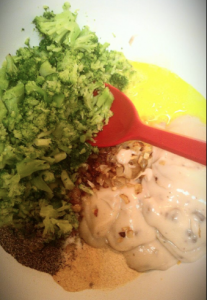 Mix everything in the bowl well.
Place mixture in a greased 9×13 baking dish.
Melt Rest of Butter in the Microwave
Top with crushed crackers and pour melted butter on top of crackers.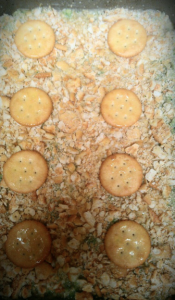 Bake for 35 minutes
Enjoy 🙂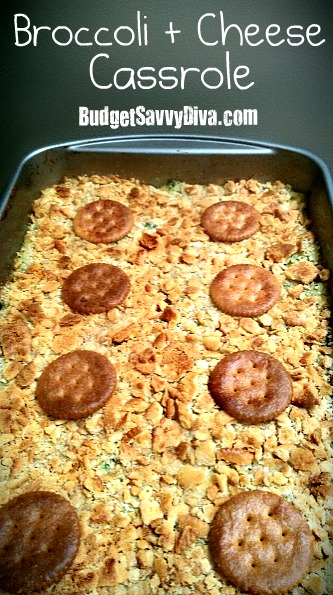 To print out the recipe please click the little printer icon below
Broccoli and Cheese Casserole
Simple casserole full of veggies.
Ingredients
20-ounce packages frozen chopped broccoli, cooked and drained
1 Teaspoon of Pepper
Pinch of salt
½ Teaspoon of Onion Powder
½ Teaspoon of Garlic Powder
1 cup of chopped onion
3 Garlic Cloves minced
1 cup sharp cheddar cheese
2 10¾-ounce can condensed cream of mushroom soup
2 eggs beaten
2 cup crushed Ritz crackers
3 tablespoon butter
Instructions
Preheat oven to 350.
Heat 1 tablespoon of butter in a medium size skillet. Added chopped onions and cook for 10 minutes then add garlic and cook for one minute.
In a large bowl add: Onions, Garlic, Cheese, Broccoli, Garlic Powder, Eggs ( beaten), condensed cream of mushroom soups, Onion Powder, Salt, Pepper.
Mix everything in the bowl well.
Place mixture in a greased 9x13 baking dish.
Melt Rest of Butter in the Microwave
Top with crushed crackers and pour melted butter on top of crackers.
Bake for 35 minutes
Enjoy 🙂
This recipe has been adapted from HERE