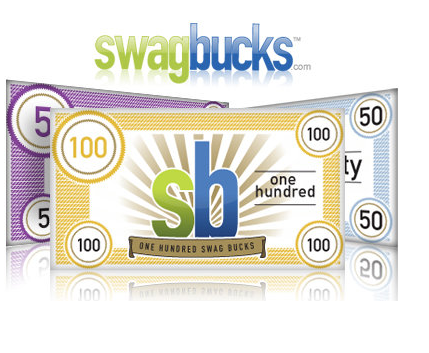 Swagbucks.com is an online portal dedicated to helping you earn "Swag Bucks", which can be redeemed for gift cards and other merchandise at Swagbucks.com. By simply searching the web for things you always search for, you can earn Swag Bucks. Instead of using your regular search engine, you'll use the Swag Bucks search engine, and earn Swag Bucks towards your purchases.
Most of the time, I just redeem my Swag Bucks for Amazon gift cards, but there are lots of other options – and there are so many ways to earn!
It's easy and free to join Swag Bucks, so sign up today and start earning. Use these tips to help you earn even more Swag Bucks.
1. Follow Swagbucks on Twitter and watch out for extra codes.
2. "Like" Swagbucks on Facebook to watch the discussions and get new codes.
3. Install the toolbar to search and earn lots of Swag Bucks.
4. Follow the Swagbucks blog for extra codes and news.
5. Purchase Groupon deals – see the Swag Bucks site for more details.
6. Do the daily poll. It only takes a few seconds and you earn Swag Bucks each time.
7. Print coupons. You're already going to use the coupons, so why not print them and earn extra Swag Bucks?
8. Tell your friends! Swag Bucks has a great referral program. You can earn up to 1,000 off of each of your friends that sign up.
You can also earn Swag Bucks by participating in trial offers, paid offers, and for watching videos on their website. Swag Bucks is simple and easy to use, and is a great way to earn extra money online. Save up your Swag Bucks for a big gift card purchase, or use small ones for birthday or Christmas presents for extended family members. Whatever you use your Swag Bucks for, remember to post about it on your social networks so your friends will want to sign up as well!