Look At What A Reader Sent Me + How You Can Send Letters To Me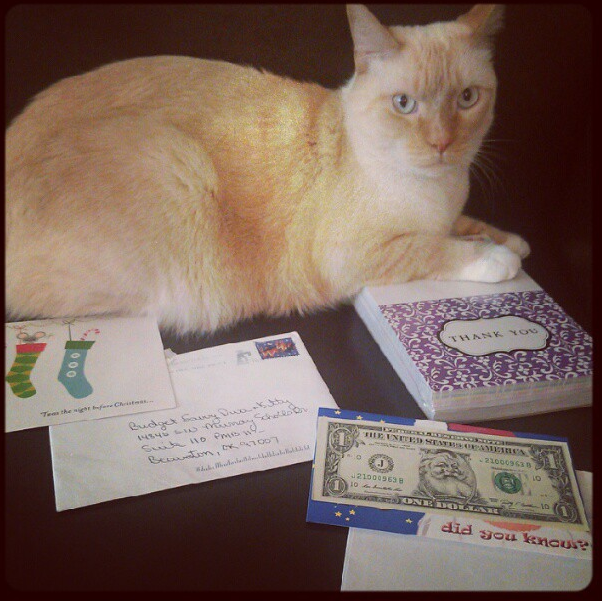 Watson and myself want to thank all the amazing readers that have already sent mail to us.
My goal is connect to you all on a more personal level – it is hard to answer every email I get about 300 per day since after I am done looking for deals the last thing my eyes want is to look at the computer screen some more
Now that Christmas is over feel free to send letters asking whatever you want – like how I saved money on my wedding or what my favorite nail polish is 😉
You might get lucky and I will send you back a goodie package full of freebies!
I bought thank you cards to write back to everyone who sends a letter — BUT you might get lucky and I will send you some goodies!
It is just another way of giving back to you all – because Budget Savvy Diva.com would be nothing without my AMAZING readers!
Oh and Watson's paw is ready for autographs 😉
One of my favorite cards I received is in the picture above – a sweet reader from FL sent me a Santa Dollar – it is an actual dollar bill with a Santa Sticker on it ( it was for Charity). I think it is a hoot! I am going to keep it forever 🙂
Here is the address to send a letter ( do not worry it is not my home address – it is a postal box )
Budget Savvy Diva
14845 SW Murray Scholls Dr.
Suite 110 PMB 112
Beaverton, OR 97007