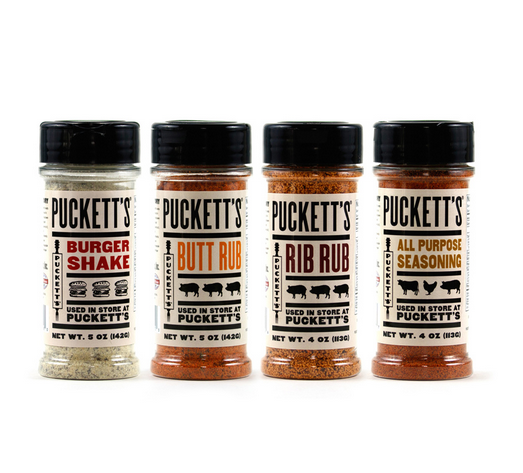 For the foodie on your shopping list, or the guy who loves to BBQ, check out this great gift idea!
The secret's in the Puckett's Gro. sauce (rubs and spices, too) — a restaurant whose name is synonymous with Nashville, "real" barbecue, and authentic Southern cookin'.
Give the gift of flavor this holiday season and stuff the barbecue lover in their lives' stocking with some of the best rubs, sauces and spices in Middle Tennessee. With four (soon to be five!) locations across the state, Puckett's Gro. is a family-owned restaurant that is best known for its fall-off-the-bone barbecue, cooked low n' slow for 18 hours over cherry wood, live music, and Southern hospitality.
A Nashville staple, Puckett's was named in the Top 25 in the 2015 book "The 100 Best BBQ Restaurants in America," and its ribs made the Top 10 list. Numerous local and regional outlets and organizations have sung the Puckett's barbecue praises, all due to these same seasonings that are for sale online and on the restaurants' shelves.
This post is part of the Budget Savvy Diva Holiday Gift Guide 2016 – make sure to check it out! Disclaimer – This product was provided for free so I could get some great photos and add it to this list. Nothing is posted that I have not checked out myself. Everything on this list is something I would buy myself.