Mickey Mouse: Merry & Scary DVD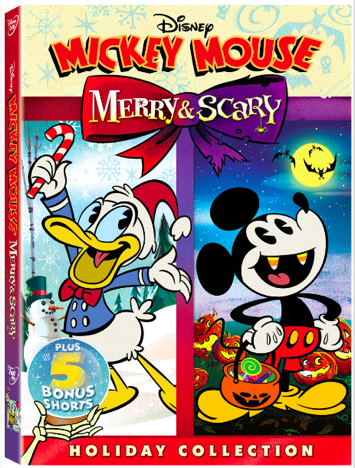 One thing Eric and I alway look forward to as the holiday season approaches is the anticipated release of a Disney special or collection of holiday shorts from Disney.  These come in various forms from Prep and Landing to the Toy Story Halloween special.  Even our Mickey's Christmas Carol Blu-ray came stuffed with fun bonus shorts that we can watch over and over, and do so when it comes time to wrap presents.
This year is no exception by way of a holiday offering from Disney.  It's called Mickey Mouse Merry & Scary Holiday Collection, and it is a truly impressive package.  I expected good fun and plenty of Christmas cheer, but I was doubtful about the Scary portion.  It's not that I don't think Disney can do scary, I was just unsure of what the tone would be and whether I would find it enjoyable to watch.  I found the Halloween portion to be some of the most creative, entertaining and humorous storytelling, with plenty of nods to the horror genre while remaining light hearted and family friendly.
This package includes The Scariest Story Ever, in which Mickey tries to conjure up a frightful tale for his and Donald's nephews. And Duck the Halls, a silly exploration of what makes Christmas so magical as Donald Duck decides not to migrate south so he can celebrate Christmas.  In addition to the two main stories there are five equally entertaining bonus shorts.
This is another great Holiday DVD to put in your rotation.  I highly recommend it if you are a fan of Disney shorts and especially the new style of Mickey Mouse Cartoon.
Disclaimer – I was sent this DVD for review but thoughts and opinions are my own.