The House with the Clock in its Walls Blu-ray Review
Recently I was Clickcom Inc. gave me a chance to screen The House with the Clock in its Walls on Blu-ray for free in exchange for a review.  All opinions are my own.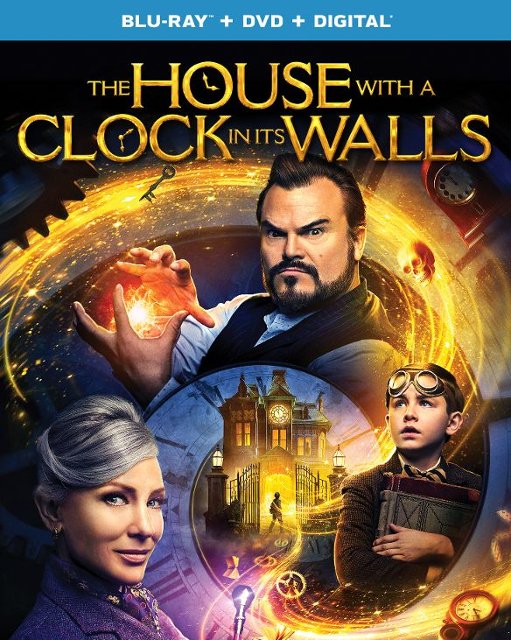 I was a little bit nervous about sitting down with the twins to watch a spooky PG movie.  You never really know what's going to scare them for life. There were only a couple of parts where Eric had to distract them from visuals that might have been a little disturbing.  For the most part, we found it to be a thoroughly enjoyable family film with lots of visual style and interesting characters.
The Story
The House with the Clock in its Walls carries some dark secrets that are discovered by Lewis, a young boy sent to live with his warlock uncle, Jonathan, after the tragic death of his parents.  Lewis is an outcast even without the weird uncle and the creepy house, but he befriends a popular boy in school who is campaigning for class president. Lewis gains confidence in himself as he learns magic at his new home.  However, it quickly becomes apparent that Jonathan is hiding a dangerous secret. A constant ticking within the walls causes him to act suspicious and irrational, even dangerous.
Lewis's friend wins the election and drops the act of being friendly, just when Lewis needs a friend most.  So powerful is his desire for friendship that he performs a dangerous spell that threatens all of existence, setting the stage for an epic battle of good versus evil within the mysterious house and a race against the clock in its walls.
The PG Rating
The PG rating of this movie was very appropriate.  PG can be difficult to gauge. Too heavy for G and too light for PG13, you never can tell sometimes what lands a movie in this nebulous region.  With The House with the Clock in its Walls, it is totally understandable. It's a little bit intense at times, but only in a cartoonish sort of way.  There is plenty of silly humor, but nothing dirty. The themes are nothing new to the family genre, but there are some good tense moments and a little taste of the gruesome, creepy, and the horrific without going for any full scares.  I credit the director for walking a delicate line and communicating a clear vision effectively. There is plenty of color, and visual appeal to the film which is due partly to visual effects and partly to the mid 50's period setting.
The Blu-ray with the Features in its Menu
The Blu-ray/DVD/Digital Copy of The House with the Clock in its Walls comes with features that include fun and games with the cast as well as insights into the direction, film composition and characters.  There is a bonus feature on adapting the film from the 1973 book, journal entries from director Eli Roth, and behind the scenes footage from child actor Owen Vaccaro. This version also includes 9 deleted scenes, a gag reel, and a feature commentary by Eli Roth and Jack Black.