Spider-Man Far From Home Blu-ray Available Now!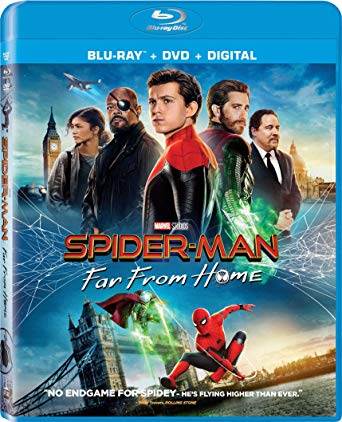 We got to see Spider-Man Far From Home on Blu-ray just in time to celebrate his return to the MCU! Marvel and Sony finally struck a deal to let Tom Holland's Spiderman continue in the Marvel Cinematic Universe. We know there will be at least one more movie. That's exciting news considering the cliffhanger ending we got in Far From Home. It's also nice to see the major heroes get a third solo film as with Iron Man and Thor. Spiderman Far From Home is the fifth Spiderman appearance in the MCU but only the second full Spider-man Movie. Get your Bluray, DVD, or digital copy of Spider-Man Far From Home now, if you like Ultimate Spider-Man. I have been dying to see Mysterio on the silver screen since 2008, so this was such a thrill for me.
Spider-Man Far From Home Synopsis
In the latest installment of the MCU version of Spider-Man, Nick Fury recruits Spider-Man for a mission to save Europe from rampaging monsters. Along with Mysterio, who is played by Jake Gyllenhaal, a mourning Peter Parker reluctantly joins the fight. With the loss of Tony Stark, his feelings for MJ, calamity across Europe, and some double-crossing, Peter Parker has a lot to contend with while donning the Spider-Man symbol.
Mysterio Cupcakes
Spider-Man Far From Home takes the Spider-Mn Journey to the next level with lots of action and the non-traditional approach to the character we loved in Spider-Man Homecoming. When we got our copy of the film, we had to have a big movie night at home. I even made delicious Mysterio inspired cupcakes with cotton candy and half of a transparent Christmas ornament. We loved the movie and the bonus features and can't wait to find out what is next for Spider-Man in Marvel's phase 4 series of films. We also received some cool science type projects – we tried the levitation DIY – and it worked!
What is Your Favorite Spider-Man movie of all time? Do you own your copy of Spider-Man Far From Home yet? 
Giveaway TIME!!! WIN – Spider-Man: Far From Home shirt, a travel card wallet, and a DVD
To Enter – comment why you would like to win 🙂 Giveaway ends Oct 8th 
Disclaimer – I received this kit for exchange for this post