Feeding the Kids Fresh Herbs From My AeroGarden Harvest
AeroGarden sent me a new AeroGarden Harvest to use and review. These are my honest opinions.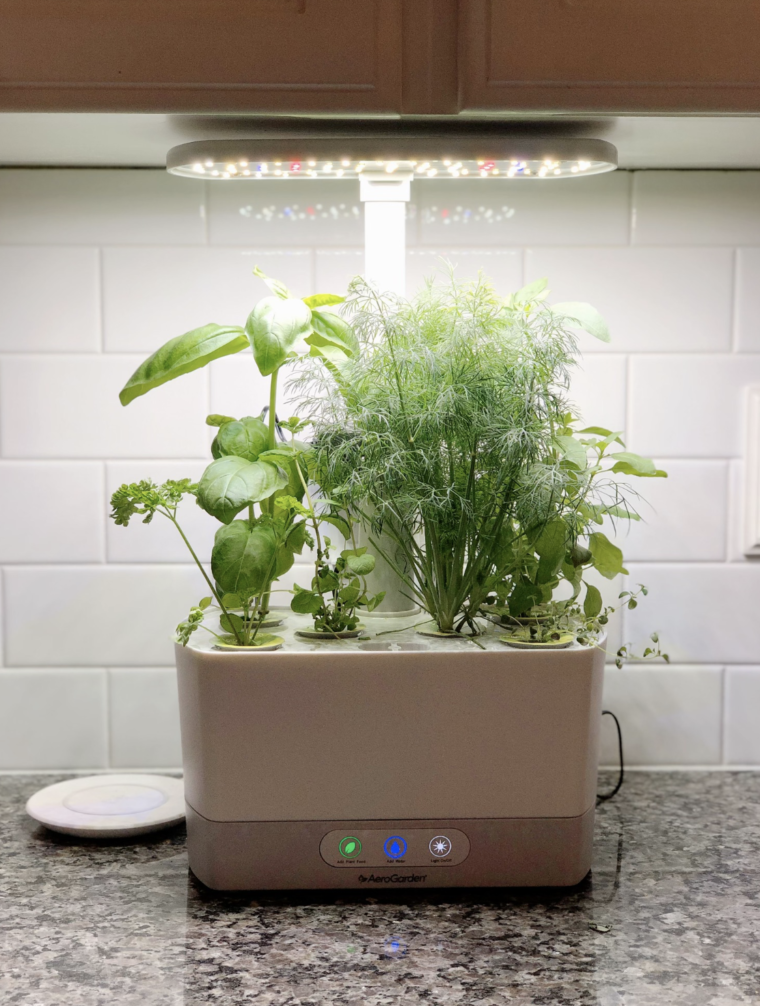 One of the things I love about Gwendolyn and Lawson is how many experiences are still so fresh and new to them. This month the advent calendar is a huge thing. They look forward to it daily because they get a small chocolate each time. I'm a little bit scared of what will happen after Christmas now that it's a thing. We've been exposing them slowly to more spices and fresh herbs in their food as well. We've been growing basil, dill, thyme, and mint which were included in the new AeroGarden Harvest we were sent for review purposes.
AeroGarden Harvest: My First Indoor Garden
The kids love watching the plants grow and it has been fun introducing them to the different flavors of the herbs. It's been a fun learning tool as well as a huge convenience for me in the kitchen. I don't have to go outside to pluck my herbs and the indoor garden system works perfectly year-round regardless of the season.
I have a pretty green thumb, but getting outside to garden is a chore I don't have the time for. Especially on wet cold days. I love how easy it is to grow herbs, vegetables, and flowers right in the house. You don't need any gardening skills at all and the AeroGarden works everywhere.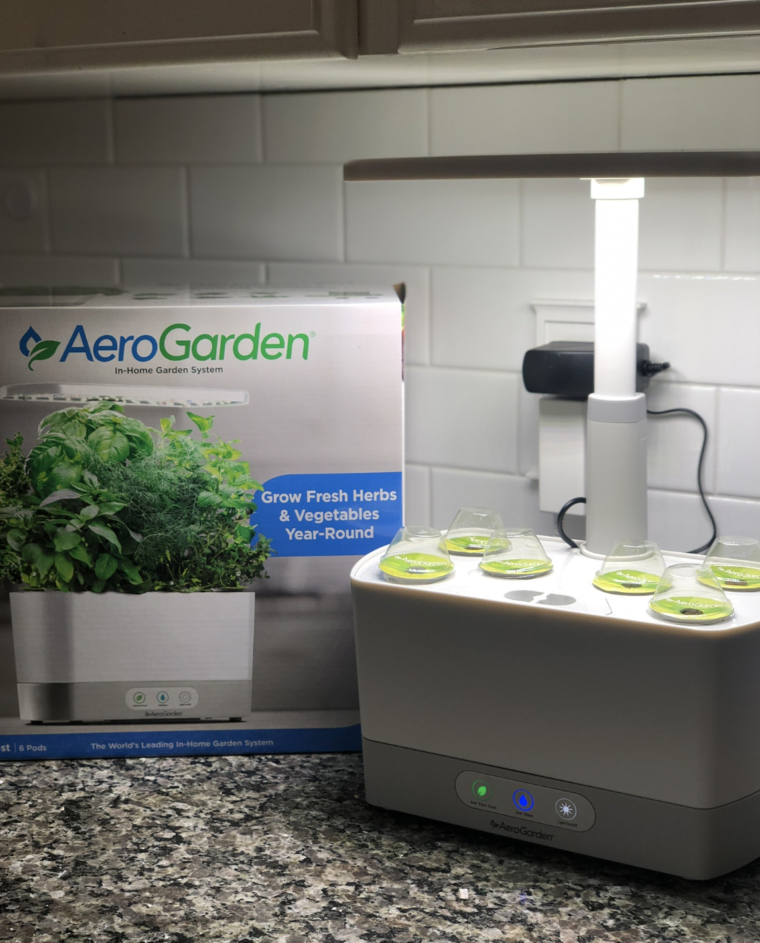 Grow Herbs, Veggies, and Flowers Fast and Easy
No sun, soil or experience is required to grow plants in the AeroGarden and it has a compact shape to fit in anywhere. We have the AeroGarden Harvest, which holds six plants and uses a simple 3 button backlit control panel that lets you know when it is low on food or water. The 20-watt white, red, and blue LEDs feed the full spectrum of sunlight to your plants and an automatic timer ensures the right amount, so your garden grows up to 5x faster than a traditional garden. I tested this claim and I can't believe how quickly my herbs sprouted and grew. There is an adjuster for the height that extends to twelve inches and I could not believe how quickly I had to fully extend it to make room for the growing herbs.
I love how futuristic and innovative this garden is. All I had to do is drop the pods in, fill the bowl with some water and a bit of plant food and that was it. Once I plugged it in the AeroGarden did the rest. I know whenever water or plant food needs to be added because of the indicator on the backlit buttons.
There are more than 70 varieties of herbs, vegetables, or flowers to choose from. If a pod fails to sprout, AeroGarden replaces it for free. They have a germination Guarantee. If the Harvest isn't just right for your home, there are smaller and larger models available. Find the right fit for you, here. I'm not stopping with just one, After seeing what the AeroGarden can do, I am getting another one so I can grow even more. The garden does a lot to elevate my mood on dreary days, so I look forward to getting some bright flowers, too.