Black Friday Deals for Lowes on Slickdeals.net
This is a sponsored post for black Friday Lowes deals on Slickdeals.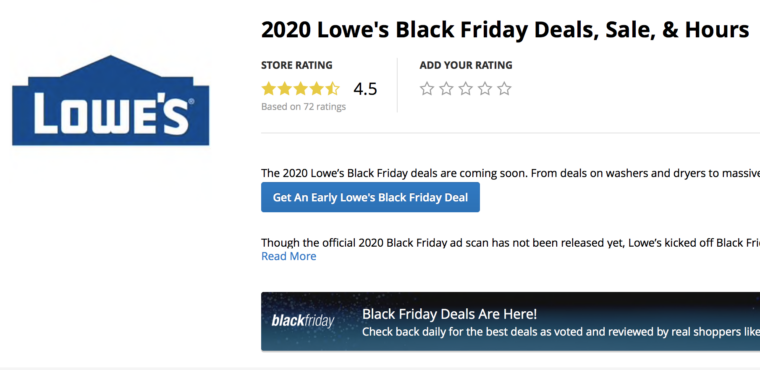 Those of you who have been following me for a long time know I love a good deal and sharing the deals I find. Many of you also probably know that some of the best deals I find using Slickdeals. As the best deal day of the year approaches, I am tuned in to all the great sales coming up and I know exactly what I'm going to buy and where. One of the hot places on my radar this year is Lowes because we have so many home improvement projects on our to-do list for 2021. Black Friday Lowes deals have already begun and more will be posted as Thanksgiving approaches.
What I Love About Lowes
When it comes to home improvement projects and general home maintenance, my favorite store has always been Lowes. We painted our house with Lowes and We went through Lowes to update most of our flooring. We buy fixtures at lowes and all of our gardening stuff, too. Our next projects are going to be a guest bathroom remodel and an updated kitchen depending on the budget. That's where Black Friday and Slickdeals come in because I love to save serious money on big home improvement projects.
One of my favorite Lowes experiences was taking Lawson when he was just beginning to walk. He was so excited to go everywhere and he was amazed by everything. He's still his dada's best helper at home.
My Favorite Black Fridays
Black Friday's are always so fun for me. The more dangerous the better. I'm kidding, of course. I tend to do most Black Friday shopping online these days. However, I've done plenty of early Black Friday trips to be among the first to get the biggest deals. I get so crazed about missing out and I hate losing out on a great price because I didn't get there soon enough. I've had some Black Friday runs where my haul fueled multiple future Christmases. Mostly because I forgot where I hid a lot of the stuff.
The best tip I can give anyone who might go to a physical location for Black Friday Deals is to know what you're looking for. That helps with online shopping too, because if you take too long to browse, inventory can be snatched up quickly. For great deals on tools and supplies, Try Lowes. You can quickly browse the best Black Friday deals for Lowes goods on Slickdeals.