Pop-Tarts X Crocs Limited Edition 'Croc-Tarts' Collab Featuring First-Ever Candy Jibbitz Charms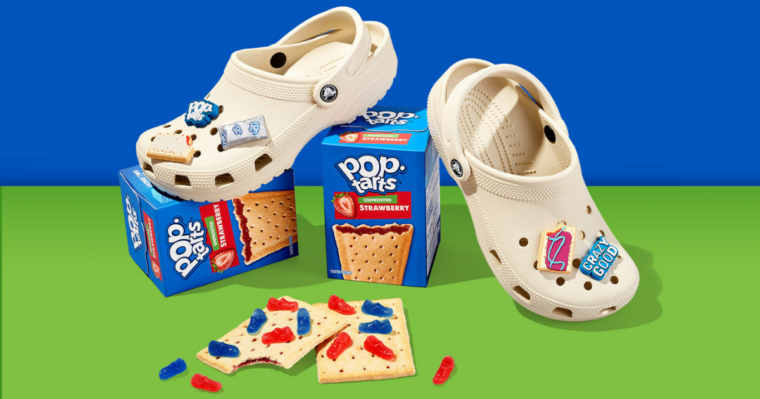 Prepare to witness an unparalleled collaboration like no other. In an extraordinary fusion of style and taste, Pop-Tarts and Crocs are joining forces to introduce a remarkable creation: Pop-Tarts Croc-Tarts. This inventive amalgamation of flavor and footwear capitalizes on a unique aspect of both renowned brands: the presence of holes.
The exclusive Pop-Tarts Croc-Tarts collection includes a pair of custom-designed Crocs Classic Clogs bedecked with Pop-Tarts-inspired Jibbitz charms. Also included is a box of Unfrosted Strawberry Pop-Tarts that boasts an unprecedented addition – candy Jibbitz charms in the shape of Crocs, designed to be savored and used as delectable decorations atop your pastry. Now you can wear your Pop-Tarts and indulge in them too.
Enthusiasts have the opportunity to vie for the chance to acquire the limited-edition Pop-Tarts Croc-Tarts Kit via croc-tarts.com, starting August 9, 2023, at 12 p.m. ET. Additional releases are scheduled for August 11, August 16, and August 18. Each day during the promotional period, sixty kits will be available on a first-come, first-served basis, while supplies endure. If you're chosen to secure a purchase, you'll be promptly notified via email. Act swiftly, as the kits will be in high demand and sizes may sell out rapidly!