The Hill: Movie Review See it August 25 in Theaters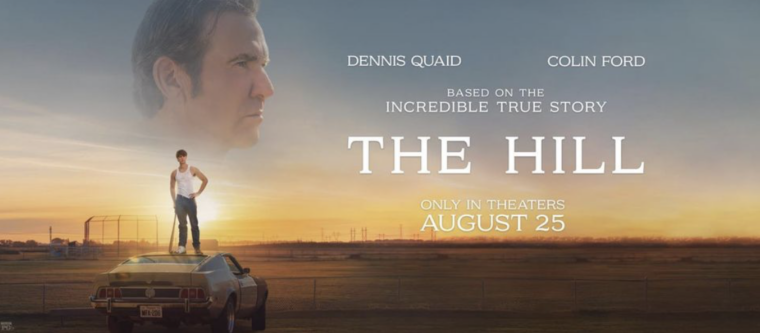 Be prepared to shed a few tears. The Hill may sound like a dark and cynical expose on our nation's capital, which is why at first hearing of the name, I cringed slightly. A political drama? a documentary? Which side of the aisle is this coming from? All sorts of questions swirled in my mind, but nothing screamed "I have to see that!" Fortunately for all of us, The Hill is none of the above. Instead, it's a tightly packaged ball of pure inspiration. It's all about the unlikely rise of Rickey Hill to pro baseball despite a world of obstacles pushing him down. You do not have to be a sports fan or know who Rickey Hill is to be deeply moved by his story.
See it on the Big Screen on August 25
The Hill is only available in theaters and it's a movie you will want to experience on the big screen. The larger-than-life story will flood you with emotion as you join in Rickey's fight to succeed and follow through on his immense talent against all odds.
The Journey of Rickey Hill
Rickey Hill grew up with a dream of playing baseball and he had the arms for it. He could really hit! But the braces on his legs, the result of a degenerative spinal disease, meant that doing anything in the world of sports was unlikely. His preacher father– played by Dennis Quaid in the movie– becomes another obstacle to Rickey as he tries to protect him from heartache and from permanent injury.
The underlying current of faith in this film is even more compelling than the call to dream. The bravery to chase down your dreams against all odds is inspiring, but the journey of faith that this film takes Rickey's father James on solidifies the story as more than a flighty invocation to follow your dreams. It's an invitation to look at the wonders and beauty of life even in the unlikeliest places.
The Talent That Brought This Story to Theaters
As you might have guessed, this heartwarming drama is based on a true story. If it sounds a little bit like Rudy 2.0, the two stories share some DNA. Angelo Pizzo, the screenwriter for Hoosiers and Rudy penned the script, along with Scott Marshall Smith, the talented writer behind When the Game Stands Tall. So, Rickey Hill's incredible story is surely in their wheelhouse.
The director of The Hill is Jeff Calentano. His colorful resume includes the 2018's Glass Jaw. A dark and gritty tale of redemption for ex-con and champion boxer, that through Calentano's artful direction becomes a visceral powerhouse. His talents on the Hill shine in the family-friendly format.
Colin Ford (We Bought a Zoo, The Rookie) was the perfect talent to tap for the part of Rickey Hill and he's joined by a terrific supporting cast to bring this amazing true story to life on the big screen. Country Music singer Randy Houser plays a man who encourages Rickey when he's young and the scout who discovers Rickey is played by Scott Glenn (Stick from Daredevil). The Hill opens only in Theaters on August 25th. Buy tickets now at https://www.thehillmov.com/.