Swagbucks Birthday and 80 SBs for new members!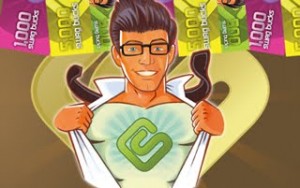 Swagbucks' third birthday is coming up on 2/28!  Lots of NEW features coming to Swagbucks for their birthday!  Plus, on Swagbucks' birthday, WE are the ones that get gifts – gifts of SWAGBUCKS!
Not a Swagbucks member? 
Sign up today!
You get 30 swagbucks just for joining!
NEW MEMBERS who join before Swagbucks' birthday can get an EXTRA 50 SBs with code: 3rdBirthday16
I know I made  a post about this before – BUT it is AWESOME program  – I have snagged over 100.00 in AMAZON Gift Cards 🙂
That's 80 SBs to get you started!  Hurry!  Ends 2/28/11!