Living Well For Less: Taking Care of You Car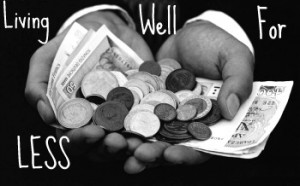 Each week there are going to be articles from me or guests – these posts will focus on little tips and tricks that will save YOU money without giving up style or quality – who wants to save money if you cannot look fab doing it!
HOW TO SAVE ON CAR CARE
For many of you car care is a dreadful event, but, it doesn't have to be that way! By being educated about car care you'll be able to make a smart decision while also saving money!
With the cold that we've been having our cars tend to take a beating. Here are a few helpful tips to keep your car going this winter:
Keep your headlights clear with car wax
Simply wipe ordinary car wax on your headlights. It contains special water repellents that will prevent that messy mixture that dries up from accumulating on your lights and typically lasts around six weeks.
Squeak-proof your wipers with rubbing alcohol
Wipe the wipers with a cloth saturated with rubbing alcohol or ammonia.
This trick can make badly streaking & squeaking wipers change to near perfect silence & clarity.
Ice-proof your windows with vinegar!
Simply fill a spray bottle with three parts vinegar to one part water & spritz it on all your windows at night. In the morning, they'll be clear of icy mess and you can sleep in an extra five minutes! The vinegar contains acetic acid, which raises the melting point of water, preventing water from freezing!
Prevent car doors from freezing shut with cooking spray
With the rain and snow that's on the way, you may want to try using spraying cooking oil on the rubber seals around car doors & rub it in with a paper towel. The cooking spray prevents water from melting into the rubber!
Fog-proof your windshield with shaving cream
Spray some shaving cream on the inside of your windshield & wipe if off with paper towels. You can also do this to your mirrors in your bathroom, works like a charm!
De-ice your lock in seconds with hand sanitizer!
Just put some hand sanitizer gel on the key & the lock & the problems solved!
Weigh your car down
Weigh your car down to gain added traction. Put a bag or two of cat litter in the truck (which also doubles for helping you get out if the car is buried in snow!), throw a couple extra blankets in the back just incase you get stranded, along with a few bottles of water and snacks.
Check your spare tire
With the cold temperatures we've had your tires may be leaking. Be sure to check your spare tire and make sure it has adequate tire pressure. This will allow you to use your spare tire and get off the side of the road.
With the cold weather amongst us it is important to make sure your fluid levels are at their proper levels. There is nothing worse than being out of washer fluid with wet roads and no moisture falling to keep the windshield clean…nasty! Also, make sure that you have the correct anti-freeze in your radiator to avoid a major catastrophe!
Being that it is winter, your headlights are on earlier than usual. Be sure to drive safe with proper lighting. Replacing headlights can be a very simple task if you know how to properly install the headlight. Watch this three minute video from Advanced Auto Parts and see how easy it is to change a headlight!
My last tip is to take advantage of the FREE Services that auto care stores offer. Advanced Auto Parts, Autozone and others offer FREE Services that include:
– FREE Battery Testing and Installation
– Replace Windshield Wipers for FREE
– FREE Alternator Testing
– FREE Light Check and Installation
– Scan that check engine light for FREE and let you know what part(s) you need to get your car fixed!
– Need a tool? Advanced Auto Parts will loan them to you for FREE!
– Do you have oil that needs to be disposed of? Bring it to Advanced Auto Parts and they will recycle it for you!
I hope that you enjoyed this article on ways to save on Car Care brought to you by Marci of CincinnatiCoupons.net.
Other Living Well for Less Articles:
Living Well For Less: Frugal tips for Fab Makeup and Beauty Shopping