Kroger NEWS for Houston! No more double / triple couponing!

This is a TOTAL Bummer for me it is because of double coupons that I was able to do this week: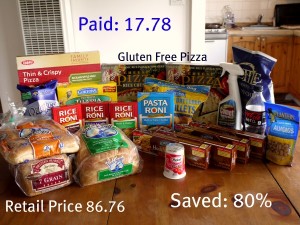 This has not affected my Ralphs ( part of Kroger …yet )
Here it is:
An Important Message Regarding Greater Houston Texas Stores:
Kroger operates 2,458 supermarkets and multi-department stores in 31 states across the country as 18 separate divisions. Each Kroger division offers various customer rewards and savings programs depending on each specific market.
Greater Houston, Texas area Kroger stores will discontinue the double/triple coupon program on Wednesday, April 13, 2011. We are in the process of finalizing the new coupon policy and will share this with local customers when it becomes effective. In the meantime, the information listed below should prove helpful in responding to your questions about the matter.
With the growing popularity of digital coupons, mobile apps and manufacturers producing coupons valued at more than 50 cents, we feel it's an ideal time to test out a new money-saving program and discontinue double/triple. There's a possibility we may re-introduce double/triple by hosting special shopping events intermittently.

We will still continue to accept coupons at face value. Part of the new policy states there is a limit of one electronic or paper manufacturer coupon per item. The opportunity to stack is no longer available. A digital coupon and manufacturer paper coupon may not be combined on the purchase of a single item. More than 100 digital coupons are available daily at

www.kroger.com

.

If you have loaded an electronic coupon to your Kroger Plus card, then the digital coupon will apply before the manufacturer paper coupon.

In addition to accepting coupons at face value, Kroger still offers a number of ways to save. We saved Texas shoppers more than $25 million in 2010 through different programs, including the generic drug pricing ($4/30-day supply and $10/90-day supply), fuel rewards, everyday 10% senior discount for shoppers who are 59 and older and our pick 6 wine discount. Also, Kroger customers will continue to receive Loyal Customer Mailings that include coupons tailored directly to the products they buy most.
Through the fuel rewards program, shoppers save 3 cents per gallon everyday at Kroger Fuel Centers. There are 67 Kroger Fuel Centers in Greater Houston. Customers can save 10 cents per gallon at Kroger Fuel Centers and at more than 500 participating Shell locations in the area when they earn 100 fuel rewards points. Kroger 123 Rewards MasterCard holders continue to save 15 cents per gallon on fuel at Kroger.
Rewards points can be earned in the following ways:
– Spend $100 on groceries, earn 100 points. ($1 = 1 point)
– Spend $50 on gift cards and we double the points. (1 $50 gift card = 100 points)
– Fill or refill 2 prescriptions at a Kroger Pharmacy. (1 prescription = 50 pts)
A more thorough outline of our coupon policy is to come; however, we want to equip you with key messages that can address your current concerns. Please feel free to use coupons before the double/triple program expires on Wednesday, April 13.
We appreciate your feedback and are anxious to share a new savings program to our Houston-area customers that will help you and your families save even more. Details will be released closer to the April 13th date.
Thank you SOOOOO much Living on Love and Cents for this NEWS