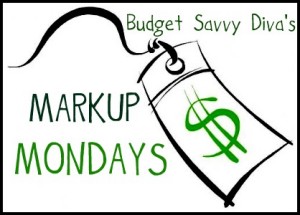 Another Monday means – we discuss markups here at Budget Savvy Diva –
Markup Mondays – where we take a look at one type of product and the % of average markup. Markup is the amount of cost that is placed on a product after the cost of ( production, transport, advertising; ingredients). Make sure to come back every week – some will shock you – it will really be difficult to pay the retail price of some of these product again.
Today's Product:
Cereal

Part of a balanced breakfast right?? – well it might surprise me that cereal is marked up 44%
Kellogg's Corn Flakes, had the highest average retail markup of 43.5%, according to a 2007 story from the American Journal of Agricultural Economics.
At the low end was Ralston Cookie Crisp cereal, with an average 18.2% markup.
So how do we avoid these costs – well skip breakfast….okay you cannot do that but how about eat smarter.
One way is to be aware of what the per oz price of the cereal you are buying. This is when the handy calculator helps out. For me I use a rule of thumb of not spend more then $1.75 for a box of cereal.
If you know there is a certain brand that your family likes why not head on over to the companies web site – good chance they will have some coupons to print out.
Also why not give the store brand a whirl – never hurts
You can even lessen the amount of cereal you eat a day and add in a extra banana.
Do you have any suggestions???