Frugal Eats: Three Meals Using Chicken – ALL UNDER $5.00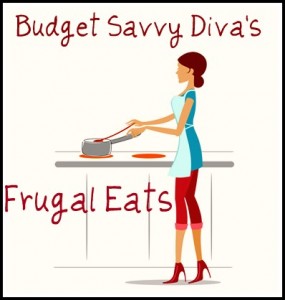 I have an exciting Frugal Eats, today. I wanted to show Budget Savvy Diva readers how I take discounted meat and make three different yummy and frugal meals. 🙂 If you want the complete recipes, then feel free to email me at [email protected].  These frugal chicken dishes are made from chicken breast that I bought on discount.  For chicken thigh recipes, try my Thai Chicken Recipe, or my One Dish BBQ Chicken and Vegetables.
Here was the first step:
Tip: I took some lemons from our lemon tree, because lemon juice is a tenderizer. Plus, it adds a bit a zip.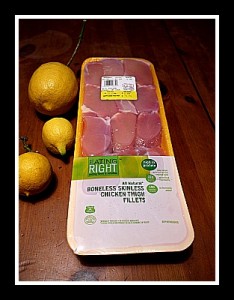 I was determined to make every meal to be under $5.00 for four servings – and I succeeded.
My first step was to tenderize the skinless boneless chicken thighs – there were 12 in lemon juice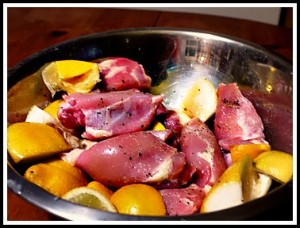 Add a little salt and fresh cracked pepper ♥.
My first dish was a Brown Sugar Fried Chicken Sandwich on a Honey Biscuit with Cheddar and Thymeand a side of Mustard BBQ infused Spicy Rice– Long name, I know. 🙂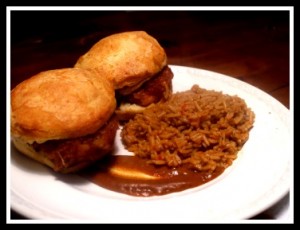 This was my husband favorite – why this dish works is that I made a batter with a little bit of brown sugar and the honey biscuit worked well with the tang of the lemon.
My Second Frugal Chicken Dish
Next, I used the same batter method on strips of chicken – to make nuggets. I then wanted to take a .39 cent blue box mac and cheese, but make it upscale.  So, I used leftover shell pasta, and while it cooked I placed fresh rosemary in the cooking pot, so it would infuse with the pasta :). Then, I added the powdered cheese with some leftover brie and topped it with fresh  cracked pepper. my dipping sauce was a leftover mustard BBQ. I toasted a honey biscuit for a little side starch –  Here is how it looks 🙂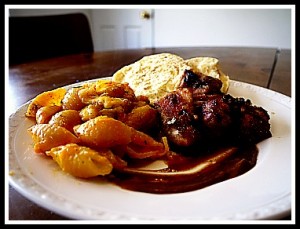 This was a big success.  I wanted to make grown up kids food and hubby loved it ♥
My Nifty Thrifty Third Chicken Dish
Now, for my final meal. I grilled chicken thighs and served them over penne pasta with garlic bread with a little cheese on top. The simple clean flavors worked really well 🙂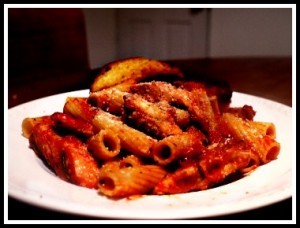 Here is a little picture of Budget Savvy Diva's Hubby enjoying dinner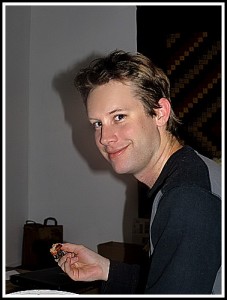 Overall these frugal chicken meals did NOT hurt my wallet. The chicken was $5.35, but you could never tell.
Remember, when you are cooking to try and balance flavors sweet and tangy, or spicy and sweet.  For a great Sweet and Spicy Chicken recipe, try this.